---
Downstairs Bar Renovation
As part of our ongoing efforts to improve the quality of service at KYC, the Downstairs bar and Kitchen will be CLOSED from November 10-27.
UPSTAIRS BAR OPEN:
November 13,14,15, 18-23, 25, 26
(On Saturday 15th, the Bar will be closed from 1:30-4:30pm for a private function)
We apologize for any inconvenience during this time and look forward to reopening the new an improved KYC Bar and Kitchen on November 27, just in time for the AGM!
Please click here for a detailed schedule of service interruptions.
Click here for the bar renovation photo album that we will update as the renovation progresses.
---
Awards Night


Awards Night was a great success! Thank you to everyone who came to make it such a great event. We had a turnout of over 110 people, great food & service and few tall tales.
Special Awards - Trophy Recipients
| Award | Winner |
| --- | --- |
| Best Crew | Ron Dwyer |
| Best Team | Dartos |
| Best Race Committee | Rob Colwell & Cara Mia |
| Most Improved Skipper | Geoff Wing |
| Best Shoal Performance | (not awarded) |
| Obscure Use of Sailing Skills | Nimrod |
| Special Spinnaker Skills | Force 10 |
| Contribution to KYC racing program | Ken Martin |
| Contribution to racing outside KYC | Peter Van Rossem |
Weekend Overall - Trophy Recipients
| Trophy | Class | Winner |
| --- | --- | --- |
| Walker Trophy | Sharks Overall | White Star |
| KIYC Challenge Cup | PHRF I Overall | Cara Mia V |
| Crescent YC 1924 Challenge Cup | PHRF II Overall | Selene |
Weeknight Overall - Trophy Recipients
| Trophy | Class | Winner |
| --- | --- | --- |
| Goslin Trophy | Sharks Overall | Dartos |
| KYC Handicap | PHRF I Overall | Touch of Class |
| Championship Cup | PHRF II Overall | Selene |
Complete Trophy Winners List and Results can be found here
---
Awards Night Photos Wanted
Do we you have photos from the Awards Night?
Please send them to Matt White: matt.white@kingstonyachtclub.com
---
AGM Nomination Forms
Nomination forms for board positions in the 2014-15 season are now available at the office.
---
Able Sail Jewelry Sale
Able Sail is running an online jewelry sale as a fundraiser. All of the proceeds will go to support our program, and especially to help purchase the adapted seats needed for our new Sonar, Zest.
Deadline to order: November 19
All orders will be filled from the Mississauga office as soon as the party closes. Orders should arrive by about November 22 or 23.
Click here to access the online store
---
KYC Family Christmas Party
December 14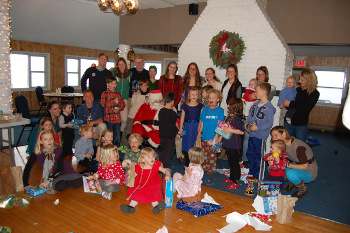 Attention Ladies and gentleman… Boys and Girls…
The 2014 KYC Family Christmas Party
is not one you will want to miss!
For Who?: YOU, the KYC member!

The VERY ENTERTAINING MAGICIAN: ROB DRISCOLL
will make ALL AGES LAUGH! Also BRING YOUR KIDS, GRANDKIDS, NIECES/NEPHEWS AND OTHER LITTLE CLOSE FRIENDS for the children's games, crafts and Santa's visit!!

When/Where?: Sunday December 14, 2-4pm upstairs

What?: Christmas games/crafts available for children at 2pm
Rob Driscoll, the VERY ENTERTAINING MAGICIAN,
will run the show from 3-330pm

Santa is expected to arrive after Rob's performance

Note: Parents, grandparents and guardians of little child(ren) attending...please place a gift wrap present with "your child's" name on it in by 3pm in the KYC office (near Santa's bag).
---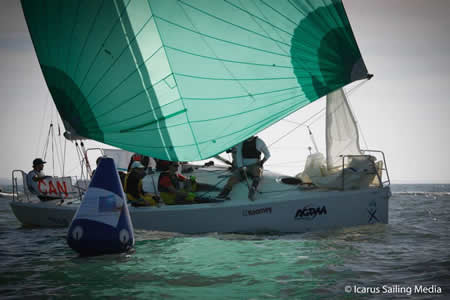 KYC Junior Sailing instructor, Elizabeth Rouget, recently competed with the Dalhousie Sailing team for Canada at the Student Yachting World Cup, in La Rochelle France. The week long competition included teams from England, Ireland, Scotland, France, Italy, Norway, Japan, USA, Wales, Canada, and Switzerland. Elizabeth was responsible for navigating the coastal races in La Rochelle's busy port. She also had the opportunity to work as mainsail trimmer.
Elizabeth came up through the JS program at KYC and encourages all young sailors to get experience in keel boat racing. She has participated in KYC's club racing for the past couple of summers.
---
Queen's Sailing Team ~ Two National Titles!


Queen's Sailing is the 2014 Canadian FLEET Racing National Champion!
Queen's Sailing is the 2014 Canadian TEAM Racing National Champion!
The team came third at the SYWoC Qualifiers this past weekend in Halifax, NS, and are competing in the Kennedy cup this weekend, which is the US National Collegiate Keelboat Championship at the US Naval Academy.
---
Interested in Volunteering at KYC?
We are looking for people interested in serving on the board or on a committee for the upcoming year. It is an exciting time to be involved with so many projects and initiatives moving ahead. If you like to get involved please contact the office.
---
New Wine at KYC:
We are offering a new white wine, Norman Hardie's Calcaire, from Prince Edward County. Come down to KYC to try this delicious dry white! Click the link for tasting notes:
---
Upcoming Events at KYC
November 22
KPSS - Aging and Boating
November 27
Annual General Meeting
December 5
Carol Sing and Roast Beef Feast
December 14
KYC Family Christmas Party
For a complete list of upcoming events please visit:
www.kingstonyachtclub.ca/calendar
---
Aging and Boating - Extending the Season
Saturday, November 22, 2014
Time: 2 – 4 PM
R.S.V.P by: Nov.14
Email: kps.tro@gmail.com or
613 536-5367 to register
Come and learn from fellow boaters and sailors how aging affects our enjoyment on the water and how to be proactive by adjusting our boating habits and implementing commonsense changes to reduce risk while boating & sailing.
Seminar Topics include:
Age related conditions, traits or diseases that affect boating enjoyment and safety
Dr. Stephen Yates & Jan Linscott

Legal Liability and the Aging Boater
John Gale (Barrister & Solicitor)

Adjusting Boating Habits and Implementing Changes
Graham Mutch & Cathy Bridgen
---
"Glaring omissions!"
In my note in last week's Knotmeter I was totally remiss in not mentioning Don Currie.
How that slipped, I cannot quite figure out, but....
FULL kudos to Don and Chris Currie for a) providing Bagatelle as a mast de-stepping "dock" and b) lending their two sets of able hands on both days for masts down and haulout.
We all thank you.Don, you just gotta stop flying under the radar....
As well, Jeanine Jollineau was buzzing around, again, under my radar, EVEN THOUGH she ably disconnected la Gal's backstay.
Maybe MY backstay is disconnected.Nonetheless,we thank you too Jeanine.
My apologies to those who I did not mention.
Cheers,
Peter Cohrs