---
Annual General Meeting - TONIGHT
The 2014 Annual General Meeting is scheduled for Thursday, November 27, 2014 at 1900hrs.
Notice of Meeting
Click here for the Official Notice of Meeting
Director and Auditor Reports
Director and Auditor Reports can be accessed any of the following ways:
Member's Area of the website by clicking here;
Available for pickup at the KYC Office;
At the AGM itself;
Or by contacting the Office at the contacts below.
Buffet Dinner
The AGM buffet will not be offered this year due to scheduled improvements to our foodservice facilities. We are excited to re-open after the AGM with new tools to serve you better.
Main Office Contacts
613-548-3052 ext. 1 or csc@kingstonyachtclub.ca
---
Rafuse/Boyd win NS Sailors of the Year
KYC member Danielle Boyd and her skipper Erin Rafuse of the Royal Nova Scotia Yacht Squadron were recently named the Nova Scotia female sailers of the year for 2014. Boyd and Rafuse, who sail in the 49erFX class were 27th at the 2014 ISAF Worlds in Santander, Spain. They also won the 2014 49erFX Canadian Champions which were contested at the St. Margaret's Bay Sailing Club and were 3rd at CORK.

This past October, Boyd and Rafuse completed a training session in Weymouth, England with the British National Team. They are presenty training in Clearwater Beach, Florida for December with the rest of the Canadian Team. In January they will be competing in the Miami OCR, and then back in Clearwater Beach for the North Americans. With their sights firmly focused on Rio 2016 their spring and early summer takes them to Europe. The summer finishes up in Canada for CORK and possibly the Pan Am Games in Toronto. For more details please follow them on facebook at Team Rafuse/Boyd or on the web at http://www.teamrafuseboyd.com/.
---
Awards Night Photos Wanted
Do we you have photos from the Awards Night?
Please send them to Matt White: matt.white@kingstonyachtclub.com
---
KYC Family Christmas Party
December 14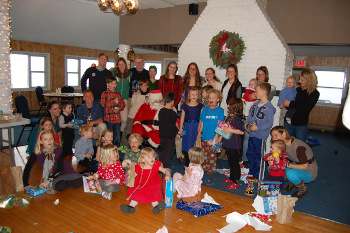 Attention Ladies and Gentleman… Boys and Girls…
The 2014 KYC Family Christmas Party
is not one you will want to miss!
For Who?: YOU, the KYC member, friends and family!

The VERY ENTERTAINING MAGICIAN: ROB DRISCOLL
will make ALL AGES LAUGH! Also BRING YOUR KIDS, GRANDKIDS, NIECES/NEPHEWS AND OTHER LITTLE CLOSE FRIENDS for the children's games, crafts and Santa's visit!!

When/Where?: Sunday December 14, 2-4pm upstairs

What?: Christmas games/crafts available for children at 2pm
Rob Driscoll, the VERY ENTERTAINING MAGICIAN,
will run the show from 3-330pm

Santa is expected to arrive after Rob's performance
Note: Parents, grandparents and guardians of little child(ren) attending...please place a gift wrap present with "your child's" name on it in by 3pm in the KYC office (near Santa's bag).
---
Toronto International Boat Show Trip 2015
Collins Bay Yacht Club members are again running a highway coach trip to the Toronto International Boat Show and invite KYC members, spouses and friends to join us along with members from CFBKY Club.
Depart: Wednesday, January 14,2015 from CBYC parking lot at 8:15am
Arrive: at Boat Show at 11:00am
Depart: show a 6:00 pm - Dinner at the Mandarin Chinese Buffet off Brock Road, Pickering
Return: CBYC parking lot 9:30 pm ( or close to this)
NOTE: there will be a pickup at the Flying J Napanee at about 9:00 am
COST: for coach -same as last year -$30.00 per person -a bargain!
PHONE: Dennis Reed at 613-373-0288 to book a seat
- need 45 people to break even -phone soon
- money required to confirm seats
You are responsible for your own tickets - note there are often free tickets available through your club
---
Queen's Sailing Team ~ Finishes 2nd at the Kennedy Cup

The Queens Keelboat Sailing team finished 2nd at the Kennedy Cup, the National Championship.
With winter quickly approaching, the Queen's Sailing Team headed south one last time to Annapolis, Maryland to compete in North American Collegiate Keelboat Championship, the Kennedy Cup. This invitational event brought the best teams from all across the United States together for the first time all season, each team with their sights set on the cup
Sailing for Queen's were Clifton Kartner '15, Samuel Thompson '17, Sean Magee-Saxton '16, Will Jones '17, Daniel Sheedy '17,Jack Breislin '16, Connor MacKenzie '17, and Nicholas Wright '16
Full Regatta Report:
www.queenssailing.ca/2014/Kennedy-Cup.html
---
Esther Falkson (pictured centre),daughter of KYC members Conrad and Elsabé Falkson won bronze in Sabre Fencing (Women's Open Class) at the "Ottawa Shield" Tournament held last weekend.

Congratulations to you, Esther!
---
Interested in Volunteering at KYC?
We are looking for people interested in serving on the board or on a committee for the upcoming year. It is an exciting time to be involved with so many projects and initiatives moving ahead. If you like to get involved please contact the office.
---
New Wine at KYC
We are offering a new white wine, Norman Hardie's Calcaire, from Prince Edward County. Come down to KYC to try this delicious dry white! Click the link for tasting notes: Norman Hardie Calcaire
---
Upcoming Events at KYC
November 27
Annual General Meeting - 1900hrs
December 5
Carol Sing and Roast Beef Feast
December 14
KYC Family Christmas Party
January 1
Commodore's Levee
For a complete list of upcoming events please visit:
www.kingstonyachtclub.ca/calendar