---
Happy Holidays to everyone!
It was great to attend last week's AGM and have the opportunity to meet some of you afterwards. I also look forward meeting the rest of the Membership by sharing a story either in front of our newly renovated bar or outside on our popular patio! It is an exciting time to be involved with the Club and I am looking forward to working alongside the Board and staff at KYC. We have many new ideas planned for this upcoming season and will introduce these concepts and events as the new season approaches.

Greg McNab, General Manager
---
F&B Renovations

We have completed our F&B renovations of the main bar and kitchen and are excited to show it off! It is a great excuse to sample our new menu while you talk to David about how he likes the new improvements.
---
2014-2015 Board of Directors
We are happy to announce the 2014/2015 Board of Directors:

Commodore: Rosemary Wilson
Vice Commodore: Ross Cameron
Rear Commodore: Peter Cohrs
Finance Chair: Bob Story
Directors-at-Large
Marc Ellemers
Ron Hodges
Ken Martin
Tom Moynihan
Ann Rouget
Ursula Thorley
Matt White
---
Online "Virtual Trophy Room" now available

The Heritage Committee is pleased to announce that the long-awaited "Virtual Trophy Room" is now available at the KYC website. After three years of work, Club trophies may be viewed on line, each with its story and award recipients over the years. Some of the trophies go back to 1895 and many are works of art in their own right.
Click here for the Virtual Trophy Room or visit our website and select it from the "Sailing" menu under trophies.
Please take a look and let us know what you think at archivist@kingstonyactclub.ca
---
Free, Free! Leftover items from tool room in Saints Rest

We are clearing out the old tool room on the ground floor of the Saints Rest to make room for archives storage. There are many and varied bits of hardware, plumbing, fasteners, and miscellaneous items to go. Bring a box or bag and take your pick ....no charge!
Dates and time: Saturday Dec. 13 and Saturday Dec. 20, from 10.00 - 13.00hrs. Access will be via the JS door near the visitor toilets.
---
KYC Family Christmas Party
December 14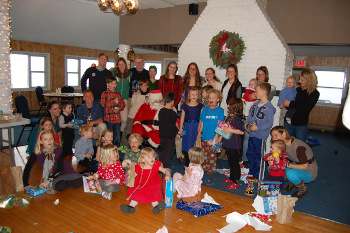 Attention Ladies and Gentleman… Boys and Girls…
The 2014 KYC Family Christmas Party
is not one you will want to miss!
For Who?: YOU, the KYC member, friends and family!

The VERY ENTERTAINING MAGICIAN: ROB DRISCOLL
will make ALL AGES LAUGH! Also BRING YOUR KIDS, GRANDKIDS, NIECES/NEPHEWS AND OTHER LITTLE CLOSE FRIENDS for the children's games, crafts and Santa's visit!!

When/Where?: Sunday December 14, 2-4pm upstairs

What?: Christmas games/crafts available for children at 2pm
Rob Driscoll, the VERY ENTERTAINING MAGICIAN,
will run the show from 3-330pm

Santa is expected to arrive after Rob's performance
Note: Parents, grandparents and guardians of little child(ren) attending...please place a gift wrap present with "your child's" name on it in by 3pm in the KYC office (near Santa's bag).
---
Paul Davis Receives Canada 1 Award

Above: Marianne Davis accepting the Canada 1 award on behalf of Paul Davis
The Canada 1 Award is presented to a member whose actions embody good sportsmanship and unselfish service to the club and to sailing.It is a special award that is not presented annually. Congratulations to Paul Davis on receiving this award. We thank him for his ongoing dedication to the Club and to the sport of sailing.
---
Toronto International Boat Show Trip 2015
Collins Bay Yacht Club members are again running a highway coach trip to the Toronto International Boat Show and invite KYC members, spouses and friends to join us along with members from CFBKY Club.
Depart: Wednesday, January 14, 2015 from CBYC parking lot at 8:15am
Arrive: at Boat Show at 11:00am
Depart: show a 6:00 pm - Dinner at the Mandarin Chinese Buffet off Brock Road, Pickering
Return: CBYC parking lot 9:30 pm (or close to this)
NOTE: There will be a pickup at the Flying J Napanee at about 9:00am
COST: for coach -same as last year $30.00 per person, a bargain!
PHONE: Dennis Reed at 613-373-0288 to book a seat
---
Interested in Volunteering at KYC?
We are looking for people interested in serving on a committee for the upcoming year. It is an exciting time to be involved with so many projects and initiatives moving ahead. If you like to get involved please contact the office by email office@kingstonyachtclub.ca or by phone 613-548-3052 ext 1
---
Hours of Operation