---
Manager's TGIF
Our new General Manager, Greg McNab will be hosting our month end TGIF on January 30th. This is a great excuse to come and introduce yourself. There will be appetizers and a wine tasting available for all members as well as the first Beau's beer of feBREWary!
Beau's feBREWary 2015 starts on Friday January 30th and is being officially kicked off at KYC on Friday February 6th featuring a night with Beau's David Beauschesne. We will have a new, unique beer available in limited quantities each Friday and lots of prizes to give away for those who wish to sample!

We will be contacting fleet captains to see about interest in hosting a TGIF, however please feel free to contact us if you are interested in setting a date for your fleet or group!
---
2015 DN Iceboating Worlds/NA Championships
It's all over! It was an awesome week, and it was great to have all the excitment around the club.
The World Cup ended on Wednesday with the Poland team taking 1st, 2nd, 3rd. KYC's Peter Van Rossem placed 23rd and John Curtis placed 34th in the Gold Fleet.
The North American's started on Thursday, but with only two races and too much snow Friday morning, the regatta was cancelled as the race minimum was not reached.
We would like to thank the visiting Race Committee Crew and the KYC Volunteers for their great regatta work, and the KYC Staff for taking care of our guests all week.
Full event details, including media coverage and results can be found here:
www.kingstonyachtclub.ca/2015-Ice-Yachting-DN-World-Cup

Check out this amazing video of the action put together by Make Hay Media. It includes a unique arial perspective of the races. A must watch!
Photos from the DN World Championships
For more photos please visit our Flickr page.
---
Mooring Applications Now Available
We are now accepting Mooring Applications for the 2015 Season.
You can find applications online or through the main office.
Application deadline is Friday, January 30th. To be considered please submit completed application and $200 mooring deposit to the main office.
Questions about Mooring Regulations? You can find a copy of the regulations on the Member's side of the KYC website under "Forms": www.kingstonyachtclub.ca/memberdesktop.
---
KYC Sailors Honoured at Ontario Sailing Awards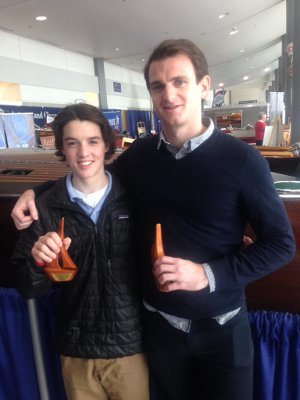 Pat (left) and Max (right) at the OSA Awards
Pat Wilson and Arie Moffatt won the Fogh Marine Youth Sailor of the year. For "athletes who achieved on the Provincial or the National level, that demonstrated a high level of skill and expertise in their discipline" . They had a great season sailing in the 420, won the Canadian Youth Championships, and are now training for the Canadian World Youth qualifying regatta which could mean representing Canada at the World Youth Championships . The Corinthian Fund will be supporting them in 2015. KYC is proud of these youth sailing athletes who came up through KYC's Youth Sailing Program!


Max Crothers won the Angus (Bud) Roulstone Award for a "Sail Canada Instructor/Coach who has shown exceptional leadership in a Learn to Sail / CanSail program" . Bud Roulstone and his son Pat were past members of KYC and many of the half model boats displayed around the club were built and donated by Bud Roulstone.



A warm congratulations to all of you! Way to go!
---
King's Town Players Presents:
Rapture, Blister, Burn
January 28-31


For information and tickets please visit www.kingstownplayers.com
---
Parking Opportunities
The board has approved a limited number of parking spaces to rent during the off season for $100/month during business hours. If you are interested in renting a space please contact the office for further details.
---
Robert Davis Speaker's Series & TGIF
February 27th, 2015
KYC will host Canadian Sailing Team member and Olympic hopeful Robert Davis on February 27th. Robert is a long time KYC member and graduate of our Junior Sailing Program and the Queen's Sailing Team. With an Engineering degree under his belt he committed to a full time Olympic Campaign several years ago and is now ranked #1 in Canada and will very likely represent Canada and KYC at the Olympic Games in Rio in 2016.

Come out and hear what Robert has been up to on his road to Rio. He has an engaging presentation that everyone will enjoy.

There is no charge to attend but we will be raising money for Robert to buy a boat in Europe to attend essential competitions there. We don't have all the details figured out yet but the fundraiser will be a combination of a silent auction where you can bid to buy the parts of his boat to keep after he is finished with it and "pin the tail on the Laser". You won't want to miss it!!

More details to follow.
---
KPSS Upcoming Courses
KPSS invites KYC members to sign up for the following courses being held at KYC:

Extended Cruising - Tuesdays, Feb. 24th to March 31st.
Sail Trim - Tuesdays, April 7th and 14th
Maritime Radio - Wednesdays, June 3rd and 10th

Please visit the KPSS website to register: kingstonboatingandsailing.ca
or contact May Corcoran at 613 536-5367
---
Able Sail looking for donation of PFDs
Do you have old PFDs lying around? Able Sail Kingston is looking for donations of PFDs for their participants and volunteers. To donate please contact Audrey Kobayashi ask@kingstonyachtclub.ca
---
Racing Update
Your Sailing Committee is back to work. We had an excellent meeting recently (in rather blustery conditions) to start on improvements for the upcoming racing season.
During the winter, we are planning (4) monthly Speaker/Meeting evening events for sailors. Stay tuned for specifics in future Knotmeters. Work on the annual Sailing Calendar and Sailors' Handbook has started. If you have thoughts on improving these items & their delivery please talk to a member of the Committee (listed in previous Knotmeter).
For the summer we are planning improvements to the SIs, some new events and greater engagement with sailing/racing groups within the club and in the area. Again, if you have thoughts/ideas, please talk to a Committee member. Planned equipment projects underway (and planned for completion in 2015) include replacement of our temporary KYC marks with permanent marks and detailed assessment & significant maintenance/improvement for the Orange Peel and Whalers.
---
Able Sail Kingston Awarded Grant from Community Foundation
Able Sail Kingston has been awarded a grant for $4,000 to adapt the recently donated Sonar for integration into their learn to sail program. The funding comes from the the Assante Financial Management Fenlon Division Fund and the Community Fund. This was an extra special honour, as the Assante Financial made the donation in Peter Hartel's memory.

The funds will be used to purchase custom seating: a "lazy susan" seat for the forward section that allows a crew member to adjust the lines and transfer back and forth; a transfer bench and overhead bar in the aft section that allows the skipper to helm and to transfer from side to side; seats, cushions, and seat belts to be installed along the side of the boat for non-crew passengers.
---
Interested in Volunteering at KYC?
We are looking for people interested in serving on a committee for the upcoming year. It is an exciting time to be involved with so many projects and initiatives moving ahead. If you like to get involved please contact the office by email office@kingstonyachtclub.ca or by phone 613-548-3052 ext 1
---
Hours of Operation