---
Junior Sailing Registration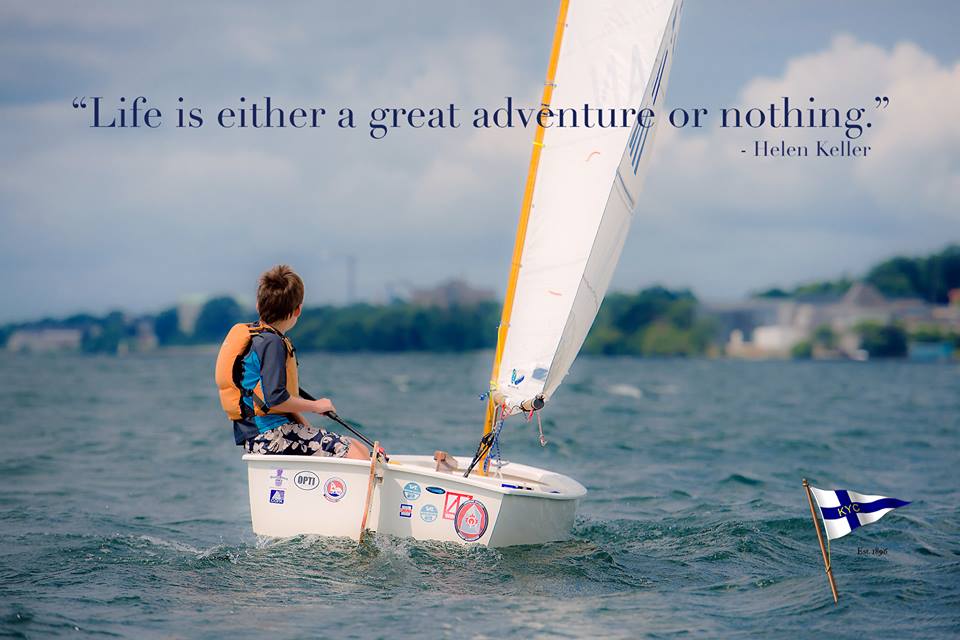 Junior Sailing Registration is now open! We are currently accepting registrations for the Optimist Program, CanSail 1-4 and
Opti Learn to Race
Click here to register

Please note we will be launching Wet Feet registration as well as Race Team registration in the next few weeks.
---
KYC Second Annual Scotch Dinner!

By popular demand, the Scotch Dinner has returned!
Saturday, March 28th - 1900hrs.

KYC welcomes back Sylvain Bouffard to once again host
this most popular evening.
Appetizer:
Homemade Smoked Trout Paté
Entrée:
Lyon's Farm Smoked Turkey Debrezini Sausage with a Scotch Lentil Pilaf and Cranberry Chutney
Main:
Scottish Lamb Stew with Four Year Old Cheddar Mashed Potatoes
Dessert:
Dark Chocolate and Raspberry Tort
RSVP bar@kingstonyachtclub.ca or 613-548-3052 ext 1
---
Easter Weekend F&B Hours of Operation

Good Friday - Open
Saturday, April 4th - Open
Sunday, April 5th - Open
---
CORK Volunteer Opportunities
Did you know that over 2400 sailors from 60 countries will be competing out of Portsmouth Olympic Harbour this summer? CORK is hosting three separate Laser World Championships (Standard Men's June 29-July 8, Masters July 10-18 and Radial Youth August 14-20) and the annual CORK August Regatta. There is no doubt that 2015 will provide excellent on water and on shore volunteer opportunities for you, as a sailing enthusiast, to get involved with world class sailing competition! Come join in the fun by registering onlinewww.cork.org or by contacting sail@cork.org. The full CORK Regatta schedule is at http://www.cork.org/schedule/.

In preparation for the summer, several training sessions are being offered including a Level 1-2 Race Officer Course at Nepean Sailing Club March 28-29, an Emergency First Aid Course at KYC on April 11th, a VHF Course at KYC on April 12th and a Safety Course in Kingston June 6-7.
Details via http://www.cork.org/volunteer-training-opportunities/.
---
Sail Canada Announces 2015 Sailing Team
Sail Canada has announced members of the 2015 Canadian Sailing Team. Of the 36 sailors, 3 of them are KYC members!

Congratulations to:

Danielle Boyd
Violet Stafford
Robert Davis

We are very proud of these young athletes and wish them luck in their upcoming year!

To read about the full announcement click here.
---
Be-On-The-Lookout for KYC Trophies
It has been a long-standing policy of the Kingston Yacht Club that the club's prized trophies are to be permanently retained for display at the club. Even after being awarded at the Annual KYC Awards Banquet, for example, KYC's trophies remain at the club after the evening draws to a close. Once their engravings have been updated, these heirlooms are returned to their display cases where they can be enjoyed by all KYC members and their guests, as tangible reminders of this club's very long and much esteemed history.
However, over the years some of KYC'S beautiful trophies have 'gone walk-about'. So, as a means to help see these trophies safely returned to the club, the KYC Heritage Committee has initiated a BOLO (Be-On-The-Lookout) program as a way to raise the profile of these missing trophies in the minds and memories of KYC's members.
Therefore, please be on the look-out for:
KYC Trophy BOLO - KYC Annual Regatta (Winged Victory) Trophy: The KYC Annual Regatta Trophy is a winged lady in the Art Deco style, standing on a tulip themed pedestal and carrying a victory flame over her head. She is mounted on a dark wooden base with engraved silver badges. The trophy measures approximately 50cm (about 20 inches) in height and about 30cm (12 inches) wide at the base.
In the past, it has been awarded to the KYC Carruthers Series J-24 Fleet Champion, although it has not been seen in decades.
If you know the whereabouts of these or other such KYC trophies, please provide any information you may have, in confidence, to the KYC Office: 613.548.3052 ext.1. Alternatively, you may contact the KYC Archivist at: archivist@kingstonyachtclub.com. The Kingston Yacht Club will be very happy to see the safe return of any of its mislaid trophies, NO QUESTIONS ASKED.
---
KPSS Upcoming Courses
KPSS courses being held at KYC:
Extended Cruising - Tuesdays, Feb. 24th to March 31st.
Sail Trim - Tuesdays, April 7th and 14th
Maritime Radio - Wednesdays, June 3rd and 10th

Please visit the KPSS website to register: kingstonboatingandsailing.ca
or contact May Corcoran at 613 536-5367
---
Hours of Operation