---
Launch

While we continue to monitor the ice in the Kingston Harbour and KYC's Harbour, Launch is still scheduled for the weekend of April 25th-26th. Membership will be informed of any changes.

A detailed report can be found here.
---
Welcome Chef!

It was Chef Neil's first week at the helm at KYC. He and the F&B staff are working hard to come up with a delicious summer menu. Look for the new items at Launch Weekend. Make sure to stop in and introduce yourself!
---
Trivia TGIF
Friday, April 17th, 7PM

Think you're smarter than the average sailor?
Assemble a crew of 5 or less and prove it!
Trivia Night hosted by Past Commodore, Ted Ison.

Please enter your team to: bar@kingstonyachtclub.ca
with Team name and participants.
---
Food Beverage Update
This week marks KYC's new Head Chef, Neil Seguin's first week at the helm of the kitchen. Please introduce yourself to him when you stop by the club. Our new menu will be starting Thrusday, April 23, right before launch.
Did you miss KYC's second annual Scotch Night? Want to sample some of the expertly selected whiskeys? We have a limited amount of the whiskeys available at the bar, come down to your club for a wee dram!
---
Junior Sailing Registration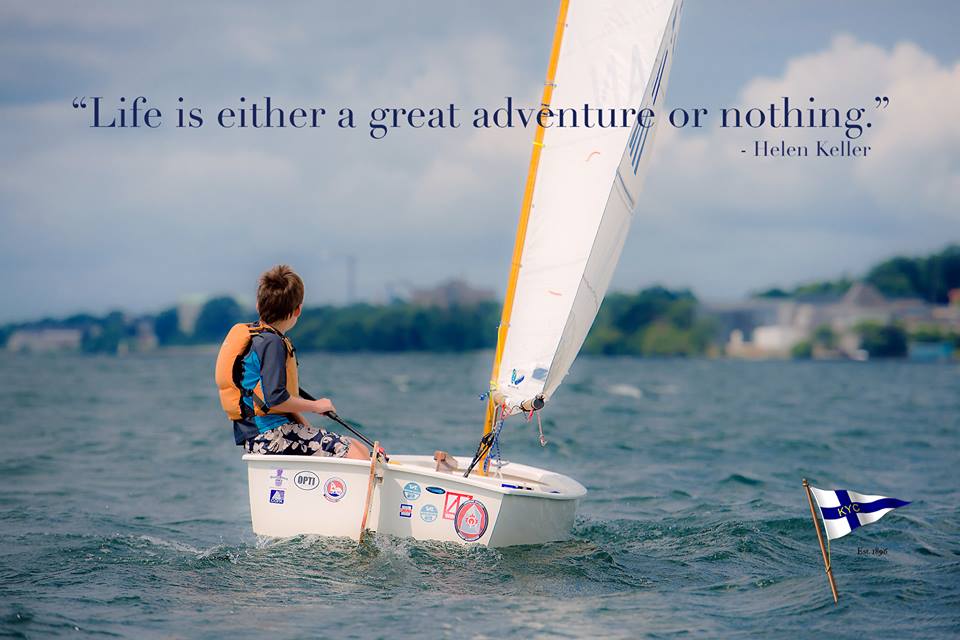 Junior Sailing Registration is now open! We are currently accepting registrations for the Wet Feet Program, Optimist Program, CanSail 1-4,
Opti Learn to Race and our Single and Double Handed teams.

High Performance teams will be opening soon.
---
Racers Evening

Please join us for an informative evening on Wed, Apr 15 at 7 pm. We will be unveiling the new 2015 Sailors eHandbook (web version), including important revisions to the SIs, as well as having a presentation on race management from the racer's perspective and holding a lottery for Race Committee duty perferred time slots.
---
Easter Weekend F&B Hours of Operation
Good Friday - Open
Saturday, April 4th - Open
Sunday, April 5th - Open
---
CORK Volunteer Opportunities
Did you know that over 2400 sailors from 60 countries will be competing out of Portsmouth Olympic Harbour this summer? CORK is hosting three separate Laser World Championships (Standard Men's June 29-July 8, Masters July 10-18 and Radial Youth August 14-20) and the annual CORK August Regatta. There is no doubt that 2015 will provide excellent on water and on shore volunteer opportunities for you, as a sailing enthusiast, to get involved with world class sailing competition! Come join in the fun by registering onlinewww.cork.org or by contacting sail@cork.org. The full CORK Regatta schedule is at http://www.cork.org/schedule/.

In preparation for the summer, several training sessions are being offered including a Level 1-2 Race Officer Course at Nepean Sailing Club March 28-29, an Emergency First Aid Course at KYC on April 11th, a VHF Course at KYC on April 12th and a Safety Course in Kingston June 6-7.
Details via http://www.cork.org/volunteer-training-opportunities/.
---
KPSS Upcoming Courses
KPSS courses being held at KYC:

Marine Cuisine - Saturday, April 11th, 1pm-3pm.
Sail Trim - Tuesdays, April 7th and 14th
Maritime Radio - Wednesday, June 3rd and 10th

Please visit the KPSS website to register: kingstonboatingandsailing.ca
or contact May Corcoran at 613 536-5367
---
Hours of Operation