---
A Message From GM Greg McNab
Well it seems we were all worried about the ice in the harbour for no reason at all! (We even had time to spare this year….However I must admit, I did see Brad on the docks last week assisting some of the broken ice out of our harbour…..
As in past tradition, we will be offering our Launch Breakfast Saturday & Sunday morning(s) beginning at 7am. Neil and the kitchen team will also put on their SPECIALS Hat with some great Features for the weekend.
Our next "Must Attend" Event - THE FOOD & BEVERAGE FAIR is on Saturday, May 2nd beginning at 6pm. This is a new event to the Club, where we will be having several beer and wine suppliers offering samples of their products to the membership. We will also be featuring many fantastic food items prepared by Chef Neil! This is a great way to reconnect to the Club, say hello to everyone who you have not seen during the winter, meet some new staff (and myself) and see what great plans we have for the upcoming season! It is also a fantastic way to introduce someone new to the Club!
The event will start at 6pm and run until 9pm. The cost is $20 per member and $25 for your guests. It is a drop in open house style….however, the ones who arrive early may be treated with some extra surprises from the kitchen.
We guarantee fun will be had by all!
For more information, please contact:
bar@kingstonyachtclub.ca or myself at manager@kingstonyachtclub.ca
---
Trivia TGIF
Friday, April 17th, 1900hrs

Think you're smarter than the average sailor?
Assemble a crew of 5 or less and prove it!
Trivia Night hosted by Past Commodore, Ted Ison.

Please enter your team to: bar@kingstonyachtclub.ca
with Team name and participants.
We only have ONE spot left for a team.
If you are interested, contact us ASAP!
---
RC TGIF
Friday, April 24th, 1700hrs
Come join the radio control sailors and learn about how these little boats work. Boats will be on display as in previous years.
The IOM skippers will hold their annual fleet meeting at 19:00 hours on the second floor.
---
Kitchen Update
We have completed some renovations to the kitchen this week in preparation for launching the new summer menu next week. Here is Dave with the first plate through the new pass:
Next week will see the launch of KYC head chef Neil Seguin's new summer menu. Chef Neil's menu will be focusing more on fresh local ingredients, expertly prepared. You can look forward to house cut fries, which will be featured in our new Steak Frites dish as well as new twists on some KYC favourites. The new menu starts Thursday April 23rd for lunch at 12pm!
---
Soling One Meter Canadian Championships
KYC radio control fleets will be hosting the Soling One Meter Canadian Championships on June 13/14 weekend off the breakwater. Registration and practice sailing will take place on Friday June 12 with racing all day on Saturday and Sunday. Approximately 20 boats are expected from Nova Scotia, Quebec, Ontario and several locations in the USA. We are looking for volunteers to help administer this event. Contact John Lowther or Paul Switzer at switzerp@cogeco.ca if you are interested in helping out.
---
CORK Volunteer Opportunities
Did you know that over 2400 sailors from 61 countries will be competing out of Portsmouth Olympic Harbour this summer? CORK is hosting three separate Laser World Championships (Standard Men's June 29-July 8), Masters (July 10-18) and the Radial Youth World Sailing Championships (August 14-20) as well as the annual CORK Regatta Series. There is no doubt that 2015 will provide excellent on water and on shore volunteer opportunities for you, as a sailing enthusiast, to get involved with world class sailing competition! Click on the following links to find out information on volunteering roles http://www.cork.org/volunteering/ , training opportunities http://www.cork.org/schedule/ and the full CORK Regatta schedule http://www.cork.org/schedule/.
Come join in the fun by registering online http://www.cork.org/members/sign_in.php or by contacting sail@cork.org/ 613 545 1322!
---
2015 Measurement Clinic
Sail Canada, with the support of ISAF, with ISAF, is considering hosting a measurement clinic in association with Laser World Championships in June 2015, with the object of developing Canadians with measurement skills.
The clinic will involve a combination of instruction and practical measurement sessions. There are no particular requirements for candidates who wish to attend the clinic, but racing experience is desirable. Numeracy and a facility with measurement tools will also aid prospective measurers.
Expressions of interest in attending are welcomed to assist Sail Canada in determining whether hosting the clinic is worthwhile.
Please indicate interest by responding here
HAPPY SAILING!
---
Junior Sailing Registration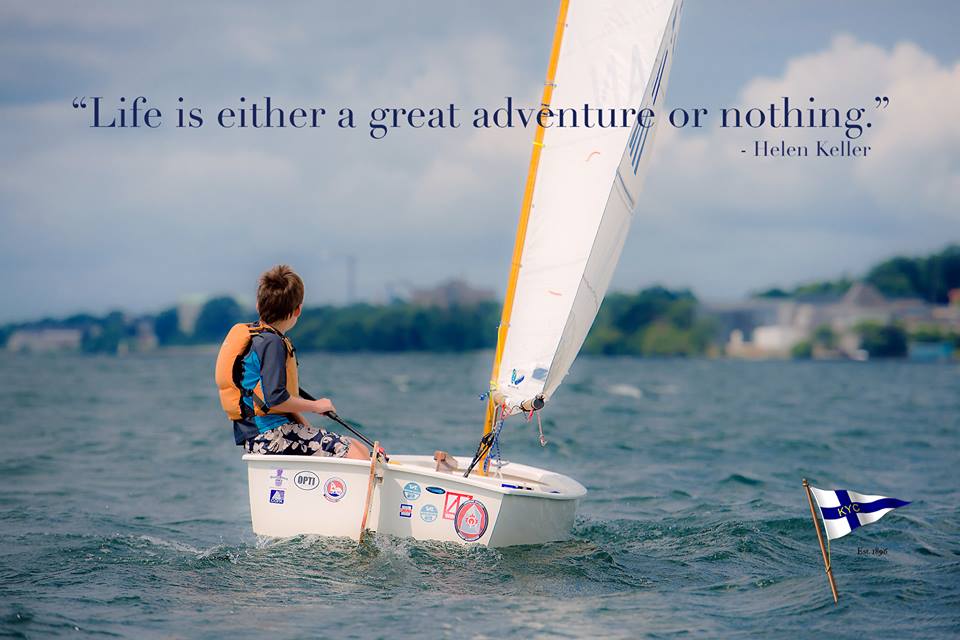 Junior Sailing Registration is now open! We are currently accepting registrations for the Wet Feet Program, Optimist Program, CanSail 1-4,
Opti Learn to Race and our Single and Double Handed teams.

High Performance teams will be opening soon.
---
KPSS Upcoming Courses
KPSS courses being held at KYC:

Marine Cuisine - Saturday, April 11th, 1pm-3pm.
Sail Trim - Tuesdays, April 7th and 14th
Sunday, May 3rd from 1:00 to 3:00 pm at KYC in the Partridge room, Mariella Morrin and friends will present a short talk on " Slick- tricks... cruising solutions" for boaters. Come and join us for a fun and informative afternoon. Please register with May Corcoran by calling her at 613 536-5367 or email her at : kps.tro@gmail.com
Maritime Radio - Wednesday, June 3rd and 10th

Please visit the KPSS website to register: kingstonboatingandsailing.ca
or contact May Corcoran at 613 536-5367
---
Hours of Operation