---
Adult Learn to Sail Instructors Needed!

We are looking for a number of volunteer instructors to run our Adult Learn to Sail sessions! This is a great chance to support your club, sharpen your sailing skills and meet new people!

We are currently looking for instructors for all three sessions.
Every session runs Monday and Wednesday nights from
17:30-20:30:
Session 1: June 1-26
Session 2: July 6-31
Session 3: Aug 10-Sept 4

We are able to work around availability (i.e. half session vs whole session or Monday nights only).
Within each session we offer a beginner level course as well as an intermediate level.

If you are new to the program, we offer an orientation "on the water" sesson to help get you acquainted with the material and the boats. These sessions are provided on a request basis.
If you would like to become an instructor or have questions
please contact office@kingstonyachtclub.ca or 613-548-3052 ext 1
Please include your availability, instruction level preference (beginner or intermediate) and your shirt size.
---
Jemmett's Landing Is Prepped and Ready For Another Season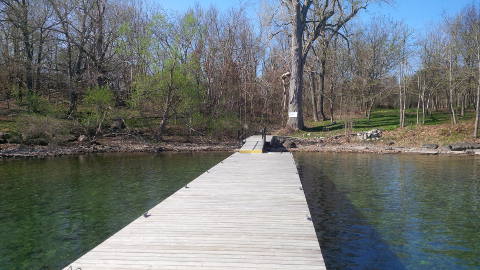 Our lovely Club Property, Jemmett's Landing, has been prepared for the season. The four mooring balls have been re-installed, along with the lengthened swim ladder. Clean-up of the property has been completed, the fire pit readied, our temporary shelter set up, and all outdoor lawn furniture returned. We have a large volume of stacked firewood to burn on site.
Thank-you very much to volunteers Peter Fedora, Rheni Tauchid and Ze Keeping, and KYC's Brad Strawbridge for all of their assistance in getting Jemmett's Landing ready to go for another great year.

A small reminder, please, to take all of your garbage and recycling with you, as there is no pick-up at the Property.

Please do come - whether by boat, car, or bike - and enjoy your Club Property.

We hope to see you on the dock or sitting around the campfire!
---
A Message From the Commodore
May 1, 2015
As always, I am overwhelmed by the skill and enthusiasm of KYC's volunteers. Launch and Mast days were very successful under the direction of Rear Commodore Peter Cohrs and Director Tom Moynihan with 'tugboat' assistance from our Yard Steward Brad. We launched 36 boats and the T-Dock in 7.5 hours on Saturday, weathered a delay when the crane had mechanical difficulties and had the remainder of the boats launched and masts up by 1545 on Sunday.
Now that the boats are mostly launched, masts are up and the weather is improving, I'd like to take the opportunity to provide some updates and reminders.
Around KYC
Please remember that the four-visit guest limit at KYC applies to racing, cruising and swimming crew. We encourage you to use all four of the individual guest privileges to introduce your friends and colleagues to the club. Membership forms are available online and at the office for those who would like to stay on beyond these visits. Help us keep our club vibrant by introducing new members.
Our canine friends must be under control at all times when not swimming, including on the dock areas. Additionally, please use your discretion when allowing dogs to swim by avoiding populated areas.
Jemmett's Landing
Our remote property at Jemmett's Landing is a very popular destination for members as the weather warms up. There is space for four boats on mooring balls and for four to six boats on the dock depending on size and rafting ability. A detailed review of our Bylaws and Policies by the Jemmett's Property Committee was done and the decision made to uphold the mooring regulations for all KYC holdings. That means that use of moorings at Jemmett's is reserved for full members in good standing. Use of the property in general remains a privilege of all membership categories.
Please remember that collegiality and consideration is the key to managing this scarce resource: a two-night limit at the dock if others are waiting to pull up must be followed and rafting must happen when necessary. We anticipate the property will be ready for visitors by the long weekend this month.
Coming up at KYC
Please plan to attend Sailpast on June 6th. Kibitka will be anchored and ready to receive by 1530. We have booked the Roosevelts (with member Tom Stewart on vocals and harmonica) for the post-sailing party. Check them out online: https://www.youtube.com/watch?v=2sVvdFVXXsY&noredirect=1
Detailed sailing instructions will be issued later in the month. I look forward to seeing everyone at the traditional launch of the sailing season.
Fair winds everyone!
Rosemary
---
Mother's Day Brunch - Sold Out!

We are really looking forward to hosting all members who signed up for this Sunday's Brunch! We are now completely sold out for both the 11:00 and 13:00 seatings.
---
Food & Beverage Update
You will notice next time you are down for a glass of wine at KYC that you now have the option of having any wine as a 6oz glass, 9oz glass or a half-litre.

Below are Gillian and David sporting our brand new staff uniforms!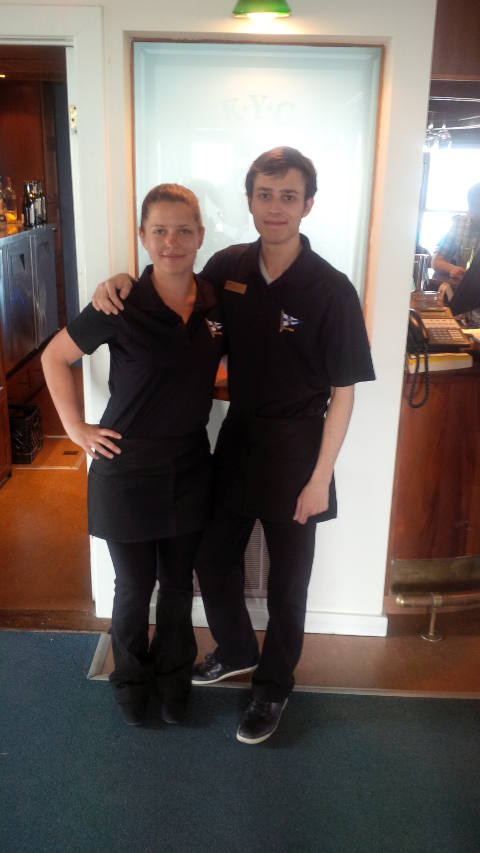 Our new feature beer is the Dunkelweiss' uncle, Beau's Dunkel Buck a German-Style dunkel weizenbock.
Believe it or not, the first long weekend of the summer is less than a month away and KYC will be kicking it off in style with the first of our Summer BBQ Series, on Friday May 15. We will be announcing details next week. Chef Neil will be preparing some delicious BBQ options and our bar staff will be serving up summery drinks. See you there!
---
Summer Hours Now in Effect!
With the nice weather comes KYC's summer hours. KYC is now open 7 days a week! From Monday to Friday the bar will be open from 11:00 to 22:00 and Chef Neil Seguin's kitchen will be serving up our delicious new menu from 11:00 to 21:00 daily. On Saturday and Sunday we will be serving Brunch from 10:00 to 14:00 and the Lunch and Dinner Menu from 14:00 to 21:00. The bar will be open 10:00 to 22:00 on Saturday and Sunday.
Starting this weekend, the Gas dock will also be open 7 days a week from 08:00 - 17:00.
---
Regatta Safety Officer Training Course
June 6th & 7th
This Regatta Safety Officer Training Program was developed to enhance the experience of competitors at regattas.
Successful completion of the theoretical training on Saturday and the Sunday, on- water practical session, will provide the participants with two of the three steps toward a
Regatta Safety Officer Certificate. For more information on this course offering please click here.
Registration for the course can be found here.
---
Weeknight Racing Has Begun!
Racing has started! Check out the new online "Racers' Handbook" under the "Sailing" area of the KYC web site. There are some changes to the SIs.
Some boats are still looking for crew. Please send details to race@kingstonyachtclub.com. Remember: even non-members can be guests up to 4 times per year.
Send your Race Committee duty requests to race@kingstonyachtrclub.com. Spots are allocated on a first come, first served basis.
Our new Race Management Coordinator is Karl Poldre. If you have a chance, please introduce yourself to Karl and welcome him to the club.
Best of luck to all racers. Please check in with the RC before the race and remember: The water is very very cold. Stay safe!
---
FREE Recreational Vessel Courtesy Check
KYC Saturday May 23 1000 to 1400
Members of the Kingston Power and Sail Squadron will be at KYC May 23 between 1000 and 1400 offering free Recreational Vessel Courtesy Checks (RVCC). Invite one of our specialists aboard, and in about 30 minutes they will determine if you have the safety equipment required by Transport Canada. If your boat is fully equipped you will receive a 2015 RVCC decal.
If you require equipment, take your RVCC form to Marine Outfitters or West Marine for a 10% discount on required items. To book your RVCC contact Graham Mutch at mutchoheare@gmail.com or 613-542-4406.
See you on May 23.
---
Soling One Meter Canadian Championships
KYC radio control fleets will be hosting the Soling One Meter Canadian Championships on June 13/14 weekend off the breakwater. Registration and practice sailing will take place on Friday June 12 with racing all day on Saturday and Sunday. Approximately 20 boats are expected from Nova Scotia, Quebec, Ontario and several locations in the USA. We are looking for volunteers to help administer this event. Contact John Lowther or Paul Switzer at switzerp@cogeco.ca if you are interested in helping out.
---
CORK Volunteer Opportunities
Did you know that over 2400 sailors from 61 countries will be competing out of Portsmouth Olympic Harbour this summer? CORK is hosting three separate Laser World Championships (Standard Men's June 29-July 8), Masters (July 10-18) and the Radial Youth World Sailing Championships (August 14-20) as well as the annual CORK Regatta Series. There is no doubt that 2015 will provide excellent on water and on shore volunteer opportunities for you, as a sailing enthusiast, to get involved with world class sailing competition! Click on the following links to find out information on volunteering roles http://www.cork.org/volunteering/ , training opportunities http://www.cork.org/schedule/ and the full CORK Regatta schedule http://www.cork.org/schedule/.
Come join in the fun by registering online http://www.cork.org/members/sign_in.php or by contacting sail@cork.org/ 613 545 1322!
---
2015 Measurement Clinic
Sail Canada, with the support of ISAF, with ISAF, is considering hosting a measurement clinic in association with Laser World Championships in June 2015, with the object of developing Canadians with measurement skills.
The clinic will involve a combination of instruction and practical measurement sessions. There are no particular requirements for candidates who wish to attend the clinic, but racing experience is desirable. Numeracy and a facility with measurement tools will also aid prospective measurers.
Expressions of interest in attending are welcomed to assist Sail Canada in determining whether hosting the clinic is worthwhile.
Please indicate interest by responding here
HAPPY SAILING!
---
Upcoming Events at KYC

May 10
Mother's Day Brunch Buffet - SOLD OUT!
May 15
1st Summer BBQ
May 23
Pigeon Island Race
May 23
Vessel Courtesy Check
June 6
Sailpast
June 6-7
Regatta Safety Officer Training Course
For a complete list of upcoming events please visit:
www.kingstonyachtclub.ca/calendar
---
KPSS Upcoming Courses
Maritime Radio - Wednesday, June 3rd and 10th

Please visit the KPSS website to register: kingstonboatingandsailing.ca
or contact May Corcoran at 613 536-5367
---