---
Friday BBQ
Dont forget about our weekly Friday BBQ tomorrow!

Pork Back Ribs with a Whiskey BBQ Sauce
House-Made Turkey Burgers
House-Made Water Buffalo Burgers
Potato Salad
Coleslaw
Farm Gate Salad
House-Made Chips
Ontario Asparagus
Fresh Vegetables with House-Made Dip
Lemon Squares
Local Rhubarb & Strawberry Tarts
Adults are $20 and kids under 12 are $10, plus taxes and gratuity. There is no need for a reservation, just come down to the club after 5:30 and ask one of our friendy bar staff to sign up!
---
Sailpast
Please plan to attend Sailpast on June 6th. The Commodore's Boat, Kibitka, will be anchored and ready to receive by 1530. We have booked the Roosevelts, with member Tom Stewart on vocals and harmonica, for the post-sailing party. Check them out online: https://www.youtube.com/watch?v=2sVvdFVXXsY&noredirect=1
Detailed sailing instructions will be available soon.
This year's sailpast menu will feature a choice of a local 8oz Striploin for $25, Chef Neil's Jerk Chicken for $20 or a Marinated Tofu and Vegetable Kabob for $18. Also included is our sumptuous sailpast buffet, which will feature:
Twice Baked Potatoes
Wild Rice Pilaf
Roasted Cauliflower
Gingered Carrots
Asparagus Salad
Farm Gate Salad
Mediterranean Pasta Salad
Fruit Salad
A Selection of House-Made Desserts
To reserve your food tickets contact James by e-mail at bar@kingstonyachtclub.ca or by phone at (613) 548-3052 ext. 206.
Sailpast SIs
The Annual KYC Sailpast and Review of the Fleet by Commodore Rosemary Wilson marks the official opening of the Club for the season.
1400 hrs Skippers' Meeting
1500 hrs The Orange Peel will stand as a marshalling point for the fleet
1530 hrs The Orange Peel, displaying Code Flag 'L' will lead the fleet to the Sailpast & Review of the Fleet

BBQ will commence after the Sailpast.

*Times may be subject to change. Knotmeter/Website will have most updated information*
Sailpast:
The Commodore will Review the Fleet from Kibitka, which will be located about ¼-mile south of the KYC Flag Staff. Participants should assemble on the water at 1500hrs, in the vicinity of the Orange Peel. (Typically the Orange Peel will set up approximately ½-mile upwind of the Commodore. In the case of a north wind, the Orange Peel may set up abeam of the Commodore, to the west).
For details, participants should monitor VHF Ch.71 or come within hail of the Orange Peel. The order of sail will be in-line, from the smallest to the largest, power and sail intermixed.
Salute:
Participants should salute to the Commodore by dipping their ensign or luffing their foresail.
Celebration ashore: After sailing-past, return to your mooring or tie up at the KYC Guest Dock and "dress ship".
Last Year's Awards:
Buckbeak (Opti) - Best display of balloons
White Star - Bubbliest boat
Cariad - Best racing form (Spinnaker)
Cara Mia V - Best salute
Alchemy - Best dressed
Kibitka - Shiniest bowsprit
Ritalin - Cutest crew under 2!
Valkyr II - Most patriotic
Seattle Slewp - Closest "Fly By"
Turtle (Albacore) - Greatest delusions of grandeur (out of order)
Take Five - Best colour coordination
---
F&B Update
The Food & Beverage Fair is on Saturday June 20th and will feature new food ideas from Chef Neil's kitchen and wine and beer sampling from KYC's suppliers. This is a great chance to find out about what we have in store for the club this summer or introduced new people to KYC. Members are $20 and non-members are $25. Please e-mail James at bar@kingstonyachtclub.ca to reserve.
This week our feature draft tap is Muskoka Brewery's Summerweiss, a delicous Bavarian style wheat beer.
---
2015 Member Cards are Here!
Woohoo!
Pick up yours at the main office, or at the bar after office hours.
Car stickers are in on June 6th!
---
2015 Community Club Membership Now Included in Family and Single Memberships!
We are pleased to announce that Community Club (CC) Membership is now included for Single and Family members.

As in the past, any Single or Family member is eligible to apply for CC membership to have access to KYC's Shark Fleet. New CC applicants will complete an orientation session, and a sail test as required, before being granted access to the reservation system and the fleet.

This is a great opportunity for members who do not own a keel boat and those with larger boats who may occasionally want to sail on a Shark.
Please contact Brett Thompson (office@kingstonyachtclub.ca) if you are interested in joining the program or have any questions.
---
The Marine Museum of the Great Lakes presents
DISCOVERING THE ONTARIO
A presentation by co-discoverer Jim Kennard
Kingston Yacht Club
Sunday, May 31, at 1700hrs
On the evening of October 31st 1780 - Halloween! - the 22-gun British man-of-war Ontario was struck by a ferocious line squall and sank with all her 130 men. It remains the worst shipwreck in the lake's history.
She was discovered on May 24th 2008 by Dan Scoville and Jim Kennard, using an adaptation of the sonar technology invented to find U-boats. Come and hear Jim Kennard himself tell the whole story, his presentation illustrated by astonishing video footage!
Free admission for Marine Museum members.
Not a member? $20 admission to the event includes a one-year membership!
Seats are limited!
RSVP to the Marine Museum at 613-542-2261 to reserve a seat.
Click here for more information
---
Adult Learn to Sail Instructors Needed!

We are looking for a number of volunteer instructors to run our Adult Learn to Sail sessions! This is a great chance to support your club, sharpen your sailing skills and meet new people!

We are currently looking for instructors for Session 2 and 3
Every session runs Monday and Wednesday nights from
17:30-20:30:
Session 2: July 6-31
Session 3: Aug 10-Sept 4

We are able to work around availability (i.e. half session vs whole session or Monday nights only).
Within each session we offer a beginner level course as well as an intermediate level.

If you are new to the program, we offer an orientation "on the water" sesson to help get you acquainted with the material and the boats. These sessions are provided on a request basis.
If you would like to become an instructor or have questions
please contact office@kingstonyachtclub.ca or 613-548-3052 ext 1
Please include your availability, instruction level preference (beginner or intermediate) and your shirt size.
---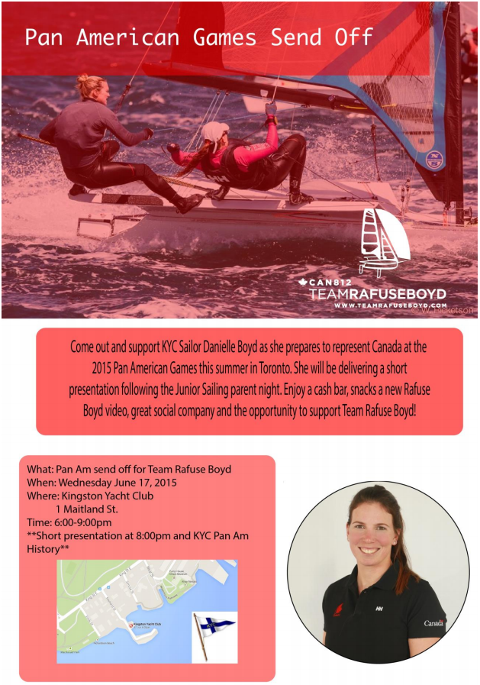 ---
Regatta Safety Officer Training Course
June 6th & 7th
This Regatta Safety Officer Training Program was developed to enhance the experience of competitors at regattas.
Successful completion of the theoretical training on Saturday and the Sunday, on- water practical session, will provide the participants with two of the three steps toward a
Regatta Safety Officer Certificate. For more information on this course offering please click here.
Registration for the course can be found here.
---
Soling One Meter Canadian Championships
KYC radio control fleets will be hosting the Soling One Meter Canadian Championships on June 13/14 weekend off the breakwater. Registration and practice sailing will take place on Friday June 12 with racing all day on Saturday and Sunday. Approximately 20 boats are expected from Nova Scotia, Quebec, Ontario and several locations in the USA. We are looking for volunteers to help administer this event. Contact John Lowther or Paul Switzer at switzerp@cogeco.ca if you are interested in helping out.
---
Able Sail is looking for volunteers!
We need people to help with boat maintenance, and to act as sailing companions (especially on the new Sonar).
We plan to have the boats on site by next week, so the last week of May is a crucial time for getting the boats in shape for the summer.
If you would like to be a sailing companion, there will be a volunteer training session at KYC at 5 pm on 10 June, to cover the basics of accessible sailing.
This is also a great volunteer opportunity for highschool students looking for a fun way to get their volunteer hours.
If you can help out, please send an email to ask@kingstonyachtclub.ca
---
Get Your Pleasure Craft Operator Card
Kingston Squadron has a seminar scheduled Tues evenings 2 & 9 Jun 6:30 PM to 9:30 PM at Ongwanda, 191 Portsmouth Ave.

The $80 seminar includes the Boating Basics textbook with self-check questions. First evening the instructor covers many of the topics. Second evening is the one hour 50 question Transport Canada multiple choice test. A temporary PCOC is issued and a wallet card is mailed to the graduate.
Students may register on line here
---
CORK Volunteer Opportunities
Did you know that over 2400 sailors from 61 countries will be competing out of Portsmouth Olympic Harbour this summer? CORK is hosting three separate Laser World Championships (Standard Men's June 29-July 8), Masters (July 10-18) and the Radial Youth World Sailing Championships (August 14-20) as well as the annual CORK Regatta Series. There is no doubt that 2015 will provide excellent on water and on shore volunteer opportunities for you, as a sailing enthusiast, to get involved with world class sailing competition! Click on the following links to find out information on volunteering roles http://www.cork.org/volunteering/ , training opportunities http://www.cork.org/schedule/ and the full CORK Regatta schedule http://www.cork.org/schedule/.
Come join in the fun by registering online http://www.cork.org/members/sign_in.php or by contacting sail@cork.org/ 613 545 1322!
---
2015 Measurement Clinic
Sail Canada, with the support of ISAF, with ISAF, is considering hosting a measurement clinic in association with Laser World Championships in June 2015, with the object of developing Canadians with measurement skills.
The clinic will involve a combination of instruction and practical measurement sessions. There are no particular requirements for candidates who wish to attend the clinic, but racing experience is desirable. Numeracy and a facility with measurement tools will also aid prospective measurers.
Expressions of interest in attending are welcomed to assist Sail Canada in determining whether hosting the clinic is worthwhile.
Please indicate interest by responding here
HAPPY SAILING!
---
Upcoming Events at KYC

May 29
Friday BBQ at the Club! no RSVP 17:30
May 31
Discovering the Ontario 1700hrs
June 6
Sailpast
June 6-7
Regatta Safety Officer Training Course
June 17
Rafuse/Boyd Pan Am Send-off
June 20
Food & Beverage Fair
For a complete list of upcoming events please visit:
www.kingstonyachtclub.ca/calendar
---
KPSS Upcoming Courses
Maritime Radio - Wednesday, June 3rd and 10th

Please visit the KPSS website to register: kingstonboatingandsailing.ca
or contact May Corcoran at 613 536-5367