---
The Annual KYC Sailpast and Review of the Fleet by Commodore Rosemary Wilson marks the official opening of the Club for the season and will happen this year on Saturday, June 6th.
The Commodore's Boat, Kibitka, will be anchored and ready to receive by 1530.
We have also booked the Roosevelts, with member Tom Stewart on vocals and harmonica, for the post-sailing party.
Check them out online:
https://www.youtube.com/watch?v=2sVvdFVXXsY
Detailed Sailpast SIs
1400 hrs - Skippers' Meeting
1500 hrs - The Orange Peel will stand near Myles Shoal
(this may vary in a North Wind) as a marshalling point for the fleet
1530 hrs - The Orange Peel, displaying Code Flag 'L' will lead
the fleet to the Sailpast & Review of the Fleet
BBQ will commence after the Sailpast.
Sailpast:
?Commodore Wilson and her fellow Flag Officers will Review the Fleet from Kibitka, which will be located about ¼-mile south of the KYC Flag Staff. Participants should assemble on the water at 1500hrs, in the vicinity of the Orange Peel.
For details, participants should monitor VHF Ch.71 or come within hail of the Orange Peel. The order of sail will be in-line, from the smallest to the largest, power and sail intermixed.
Salute:
Participants should salute to the Commodore by dipping their ensign or luffing their foresail.
Celebration ashore:
After sailing-past, return to your mooring or tie up at the KYC Guest Dock and "dress ship".
Awards:
Each Year the Reviewing Group Presents Awards for various reasons, some created during Sailpast?.
Last Year's Awards:
Buckbeak (Opti) - Best display of balloons
White Star - Bubbliest boat
Cariad - Best racing form (Spinnaker)
Cara Mia V - Best salute
Alchemy - Best dressed
Kibitka - Shiniest bowsprit
Ritalin - Cutest crew under 2!
Valkyr II - Most patriotic
Seattle Slewp - Closest "Fly By"
Turtle (Albacore) - Greatest delusions of grandeur (out of order)
Take Five - Best colour coordination
Menu:
This year's sail past menu will feature a choice of:
Local 8oz Striploin for $25,
Chef Neil's Jerk Chicken for $20
Marinated Tofu and Vegetable Kabob for $18.
Children will have the option of Burger or Hotdog for $7.
Also included is our sumptuous sailpast buffet, which will feature:
Twice Baked Potatoes
Wild Rice Pilaf
Roasted Cauliflower
Gingered Carrots
Asparagus Salad
Farm Gate Salad
Mediterranean Pasta Salad
Fruit Salad
A Selection of House-Made Desserts
To reserve your food tickets contact James by e-mail at bar@kingstonyachtclub.ca or by phone at
(613) 548-3052 ext. 206.
---
F&B Update

Pictured above: Our staff preparing to have you for dinner!
The Food & Beverage Fair is on Saturday June 20th and will feature new food ideas from Chef Neil's kitchen and wine and beer sampling from KYC's suppliers. This is a great chance to find out about what we have in store for the club this summer or introduced new people to KYC. Members are $20 and non-members are $25. Please e-mail James at bar@kingstonyachtclub.ca to reserve.
This week our feature draft tap is Muskoka Brewery's Summerweiss, a delicous Bavarian style wheat beer.
Watch for these upcoming events:

MacKinnon Brewery Cruise and Luncheon
Summer Food and Wine Pairing Dinner
Jemmett's Family Cookout

Ask about our "Chef-aboard" program!

---
2015 Member Cards are Here!
Woohoo!
Pick up yours at the main office, or at the bar after office hours.

Car stickers are in on June 6th!
---
2015 Community Club Membership Now Included in Family and Single Memberships!
We are pleased to announce that Community Club (CC) Membership is now included for Single and Family members.

As in the past, any Single or Family member is eligible to apply for CC membership to have access to KYC's Shark Fleet. New CC applicants will complete an orientation session, and a sail test as required, before being granted access to the reservation system and the fleet.

This is a great opportunity for members who do not own a keel boat and those with larger boats who may occasionally want to sail on a Shark.
Please contact Brett Thompson (office@kingstonyachtclub.ca) if you are interested in joining the program or have any questions.
---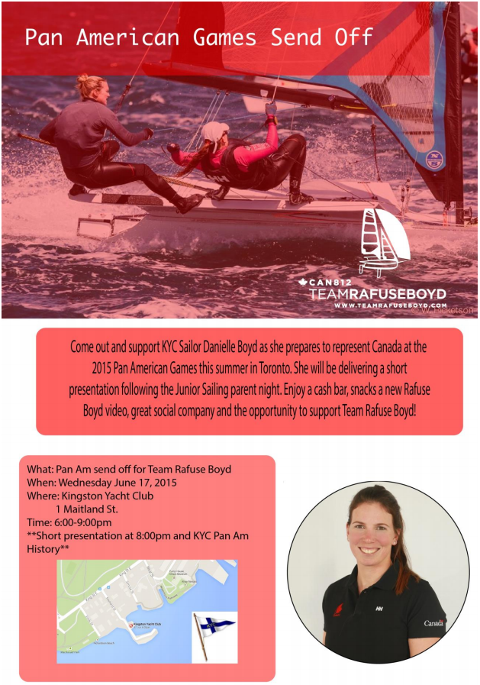 ---
Soling One Meter Canadian Championships
KYC radio control fleets will be hosting the Soling One Meter Canadian Championships on June 13/14 weekend off the breakwater. Registration and practice sailing will take place on Friday June 12 with racing all day on Saturday and Sunday. Approximately 20 boats are expected from Nova Scotia, Quebec, Ontario and several locations in the USA. We are looking for volunteers to help administer this event. Contact John Lowther or Paul Switzer at switzerp@cogeco.ca if you are interested in helping out.
---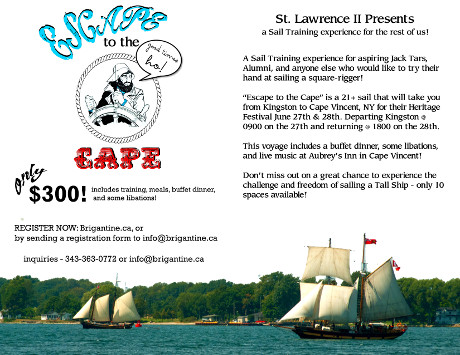 ---
Upcoming Events at KYC

June 6
Sailpast
June 6-7
Regatta Safety Officer Training Course
June 12-13
Soling Canadians
June 17
Rafuse/Boyd Pan Am Send-off
June 20
Food & Beverage Fair
For a complete list of upcoming events please visit:
www.kingstonyachtclub.ca/calendar
---
KPSS Upcoming Courses
Maritime Radio - Wednesday, June 3rd and 10th

Please visit the KPSS website to register: kingstonboatingandsailing.ca
or contact May Corcoran at 613 536-5367