---
F&B Update
The Food & Beverage Fair is this Saturday, June 20th and will feature creative food ideas from Chef Neil's kitchen, wine and beer sampling from Beau's, MacKinnon Brothers, Steamwhistle, Malivoire Wines, Hobbs & Co. Wine Merchants plus more. The event runs from 6pm to 9pm. This is a great chance to find out about what we have in store for the club this summer or introduce new people to KYC. We also want to get your feedback about the types of food and drink you want to see at the club this summer. Members are $20 and non-members are $25. Please e-mail James at bar@kingstonyachtclub.ca to reserve.
This week our feature draft tap is back by popular demand! We are featuring Smithworks Brewing Company's Dunkelweiss, a complex, yet refreshing dark wheat beer. Up next is Beau's Festivale, their summer seasonal beer.
Watch for these upcoming events:

June 27, MacKinnon Brewery Cruise and Luncheon
On Saturday June 27th, KYC will be hosting brewery tour to MacKinnon Brothers Brewery in Bath. There will be samples and a tour with their brewmaster. Chef Neil and his team will prepare lunch to go with the Beer. For those who want to cruise down to the Village of Bath's docks, there will be a shuttle running from there to the Brewery leaving at 12:30PM. Email James at bar@kingstonyachtclub.ca to reserve your places before they are all gone!
July 1st Canada Day BBQ + Watch the Fireworks!
Summer Food and Wine Pairing Dinner
Stay tuned for a time and date, and the wines that will be pairing.
Jemmett's Family Cookout
---
Attention Boat Owners! - Stray Current in KYC Harbour
On Sunday, May 31, with the help of Marine Surveyor Capt. Richard Trainor, (Ontario East Marine Surveys) we did a preliminary review of stray electrical current in the waters of our Harbour. We found many of our fleet, plugged into shore power to have stray current entering our waters. Stray current, also known as electrical leakage, represents a significant hazard to people in the water near that boat.

Please take a moment to read more about what you can do as a boat owner, what KYC is doing and the potential risk of injury to swimmers here.
---
Racing Update
June weeknight and weekend racing is well under way! The Single/Double Handed race was held last Saturday (12 boats participating) and the Harbour Race is this Saturday(Skipper's meeting at 9:30 and start at 10:30 between mark "P" and the flag[pole. The (Practice) Sprints event will be rescheduled to a more opportune time.
We are expanding usage of the white board at the bar to weekend events. Show up for the Skipper's meeting, sign up on the white board and you may get on a boat needing crew. As well, send email the Race Office at race@kingstonyachtclub.com, indicating your availability, for future matching with a boat.
RC Duties have been assigned for the year. It's up to individual boats to complete their assigned obligations or swap with another boat to do so.
Anyone seen the top half of KYC racing mark "P"? It recently went missing as a result of collision/mishap of some sort :-)
---
Soling Canadian Championships 2015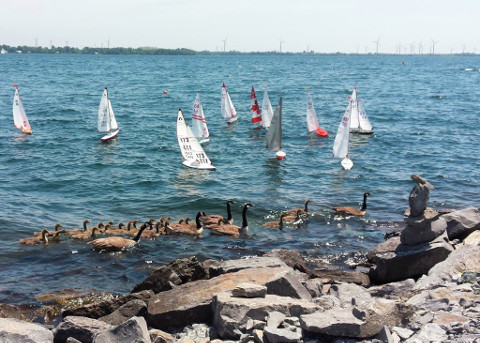 If you were around the club this past weekend you would have noticed 20 small boats sailing off the breakwater, it was the 2015 Radio Controlled Soling Canadian Championship.
It was sailed in challenging conditions on Saturday and very light
winds on Sunday. The overall winner was KYC's very own
Paul Switzer.
He got great starts and hung on to finish with six firsts and two thirds, Congratulations Paul !
I would be amiss if I didn't mention the great help I had in running this regatta. I would like to thank Ross Cameron, a man of many hats around KYC, we are very fortunate to be able to call on his talents whenever the need arises and he never refuses.
We had a great group of volunteers. The scorer was Lana Butler (in Montreal )race recorders were Maggie Daicar, Mabel Corlett, Joan Kraszewski and Mary Wilson who took care of the score board. These four kept the regatta running very smoothly. After each race Maggie and Ross would huddle and take pictures of the score sheet and then send them into cyber space to Lana in Montreal and within minutes the results would appear on the KYC website. AMAZING!
We also had the crew of John Clay and Peter Kraszewski at the turning marks keeping everyone honest. Tim Garrett and sons did an awesome job operating the crash boat and laying marks. KYC is very fortunate to have such dedicated volunteers.
I would like to thank the KYC staff for the efficient and friendly service they provided. Everyone involved in this regatta commented on the good food that they had, both at lunch and dinner.
JOHN LOWTHER ­ KYC Soling Fleet Captain
---
KYC Artefact from the Past Emerges from the Depths of the Saints Rest

The Heritage Committee has re-discovered a piece of Club history hidden for c30 years under a pile of debris in a Saints Rest ground floor storeroom. We have named it "Big Bertha" which some members may recognise as the nick-name for a gigantic WW1 field gun. Our Bertha may not be able to shell Paris from 75mi. (120km) away, or indeed shell anything at all because it is a 125lb (57kg) signalling cannon.
Please click on this link, to read the whole story and perhaps help us with suggestions of how best we can display this mighty piece of ordnance.
---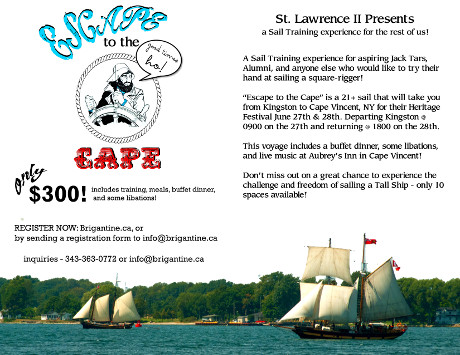 ---
2015 Community Club Membership Now Included in Family and Single Memberships!
We are pleased to announce that Community Club (CC) Membership is now included for Single and Family members.

As in the past, any Single or Family member is eligible to apply for CC membership to have access to KYC's Shark Fleet. New CC applicants will complete an orientation session, and a sail test as required, before being granted access to the reservation system and the fleet.

This is a great opportunity for members who do not own a keel boat and those with larger boats who may occasionally want to sail on a Shark.
Please contact Brett Thompson (office@kingstonyachtclub.ca) if you are interested in joining the program or have any questions.
---
Laser Championships in July
You will notice in the calendar below that we have some events planned in conjunction with the various Laser Championships being held in July. During the listed dates, please note that your Club will be busier than usual. We will be hosting many of the participants, volunteers, and spectators for dinners and events on Club property.
We appreciate your patience and cooperation during these times. KYC is proud to be a part of these events and look forward to hosting all those involved.
---
Upcoming Events at KYC

June 19
Weekly TGIF Club BBQ!
June 20
Food & Beverage Fair
June 20
Harbour Race
June 27
Mackinnon Brewery Sail + Luncheon
July 1
Canada Day BBQ + Fireworks
July 5
Laser Standard - Mid Competition Social + BBQ
July 11
Laser Masters - Opening Ceremonies
July 18
Laser Masters - Closing Ceremonies
For a complete list of upcoming events please visit:
www.kingstonyachtclub.ca/calendar
---
KPSS Upcoming Courses
Please visit the KPSS website to register: kingstonboatingandsailing.ca
or contact May Corcoran at 613 536-5367