---
O Canada Comes to KYC!
-Press Release-
Open 60 Racing Yacht Open to the Public
O Canada is shared with Kingston
this weekend at Kingston Yacht Club
KINGSTON, ON — 13 August 2015 O Canada, an extreme offshore racing yacht, has arrived in Kingston and is open to the public this entire weekend. The Canadian Ocean Racing team has sailed from Vancouver via the Panama Canal, Halifax to Toronto sharing this one-of-a-kind racing machine with sailing enthusiasts across Canada, and now she is here.
While O Canada will next year take one man on a solo race around the world, Skipper,Eric Holden, needs to build a massive team to support his epic journey.

Holden is building this team for the Vendee Globe Race by getting Canadians excited and proud of O Canada — by sharing O Canada and the experience of offshore racing with everyone. This weekend, O Canada will be open to the public at Kingston Yacht Club from
10 AM - 5 PM August 14-16.
All are welcomed onboard O Canada to meet Skipper Eric Holden, 2014 Rolex Sailor of the Year and explore the boat that will take him around the world.
http://www.sailing.ca/2014-rolex-sailor-of-the-year-eric-holden-p196138
On Saturday, August 15, Eric Holden and members of his crew will be testing their sailing skills in some dinghy match racing starting at 2:30 PM. Come watch the competition between Skipper and crew as they compete in dinghies with lucky members of the audience. There will be raffle ticket drawings at 5 PM to win a sunset sail onboard O Canada and Helly Hansen team gear.
There are also opportunities to charter O Canada for private sails August 14-18 or even come onboard as crew for an authentic overnight passage from Kingston to Toronto August 19.
Please inquire with Meg Reilly at
mreilly@canadianoceanracing.com to reserve
All proceeds from this weekend's events go directly to getting O Canada and Eric Holden to the Vendee Globe. The public can also help the team reach their fundraising goal of $100,000 by the end of August by sending tax-deductible donations to
Canadian Ocean Racing on www.windathletes.ca/donate.
Follow the team's journey on www.canadianoceanracing.com, on Facebook or Twitter and Instagram @oceanracers.
---
Friday BBQ Menu:
Chef Neil's Jerk Chicken with a sweet cilantro pressed yoghurt.
Grilled hot italian sausage with house-made sauerkraut.
Roasted red new potatoes.
House-made pasta salad.
Crudite tray with house-made ranch dip.
House-made coleslaw.
A variety of sweet treats.
$20 for adults and $10 for kids, see you tonight!
---
F&B Update
Our feature beer this week is from Broadhead Brewing in Ottawa and is their Wildcard Pale Ale, a mildy hopped pale hale. Broadhead's Darkhorse Stout, will be replacing the Wind & Sail Dark Ale. Come in and try a pint and as always let us know what you think!
Upcoming Events:
Summer Food and Wine Dinner @ Jemmet's
Saturday, August 29th at Jemmet's landing, KYC will be hosting our long-awaited summer wine-dinner. Chef Neil will be creating a delicious menu of local food to be paired with some of the best wines Ontario has to offer. There are only 20 seats for this exclusive farm to table event, sign up with James at bar@kingstonyachtclub.ca today, to avoid disappointment!
---
Yoga @ KYC!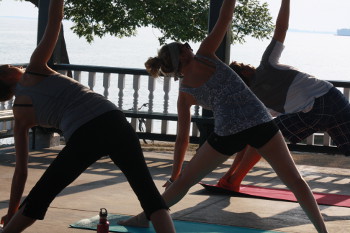 Yoga at KYC with Norah Greatrix!
We are proud to announce that during the month of August our very own member Norah Greatrix will be introducing Yoga for Club Members!
Where: Weather permitted we will practice outside in the Newlands Pavilion at MacDonald park. Alternatively class will be held at the club in The Partridge Room Located on the second level.
When:
The next session will be meeting at the beach in front of the clubhouse at 1545h on Aug 17th. There will also be sessions on August 24th, and 31st. We will be adding dates in September based on participation
Time: 1600hrs
Cost:
The cost is $10 per session (which we will be happy to apply to your account)
Sign Up:
Please contact Greg McNab manager@kingstonyachtclub.ca
What to Bring:
Mat, comfortable clothes & H2O.
(A mat can be arranged in advance if you need, please contact Norah for this and with any questions pertaining to what will be covered in class).
A bit about Norah! http://www.bodymindkingston.com/about
For additional information please contact Norah norahgreatrix@gmail.com, she will be happy to answer any additional questions
---
Racing Update
Week Night Series Results
PHRF 1 June-July Thursdays: Touch of Class (1st), Chiriya (2nd), Force 10 (3rd)
PHRF 2 June-July Thursdays: Jammin' (1st), Selene (2nd), Scotia Maid (3rd)
Sharks July: Dartos (1st), Shadfly (2nd), JLS (3rd)
Congratulations to the winning teams!

Race Management
Under normal circumstances, and as a general rule, each Race Committee should make their very best effort to be on the course and prepared to start races on time. There are a couple of exceptions: clear and present/impending danger (e.g. lightning, extreme wind/squalls) or no prospect of sufficient wind to start a race. In the case of the former, safety for the racers is the overriding consideration. In the case of the latter, it's a practical consideration for racers (i.e. not having to rig their boats, go out to the course, return the the club, un-rig, etc, unnecessarily). An on shore abandonment recently occurred for safety reasons. The majority of racers thought the overall process (on shore consultation by the RC with a large number of skippers from each fleet) worked well and the decision to abandon correct.

1 D Sailing Cup
KYC is building a team to race in 1 D Sailing Cup in late September in Bronte Harbour. There's $1,000 in prize money. For more details, check out https://1dsailing.com/1dsailingcup/.If you are interested in participating please contact John Curtis at john@windathletes.ca.
---
Upcoming Events at KYC

August 13-19
O'Canada

at KYC

August 14
Friday BBQ
August 14-15
Picton Jazz Cruise & P.E.C. Winery Tour
August 14-16
Free tours of O'Canada at KYC 10am-5pm
August 17

Yoga! @ KYC (Meet at KYC Rock Beach)

August 17
CORK Laser Youth Worlds BBQ at KYC
August 21
JS Awards Dinner & BBQ
August 29
Jemmett's Wine Dinner
For a complete list of upcoming events please visit:
www.kingstonyachtclub.ca/calendar
---
KPSS Upcoming Courses
Please visit the KPSS website to register: kingstonboatingandsailing.ca
or contact May Corcoran at 613 536-5367