---
F&B Update
Our feature beer this week comes from Beau's, and is back by popular demand, their Golden Vox Rye Lager. Next on tap will be Beau's unique Bush Fire Rooibus-Honeybush Beer, an ale infused with teas from South Africa. As always, ask our servers to try one of our delicious signature cocktails.
Upcoming Events:
Summer Food and Wine Dinner - SOLD OUT!
Saturday, August 29th at KYC *NOTE LOCATION CHANGE*, KYC will be hosting our long-awaited summer wine-dinner. Chef Neil has created a delicious menu of local food to be paired with some of the best wines Ontario has to offer.
Menu:
Amuse Bouche:
Sesame Shrimp Toasts with Sweet Chilli dipping sauce

First Course:
Mixed Seafood Chowder with Roasted Red pepper coulis and rosemary garlic crostini

Second Course:
Rainbow Trout with Tarragon Beurre Blanc, Wild Rice Pilaf and Baby Bok Choy

Dessert:
Peach Melba
Cocktails: 6PM Dinner: 6:30PM
---
Yoga @ KYC!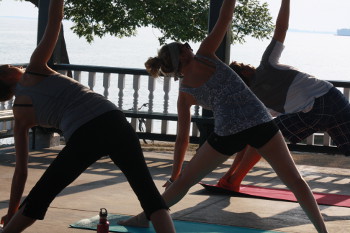 Yoga at KYC with Norah Greatrix!
We are proud to announce that during the month of August our very own member Norah Greatrix will be introducing Yoga for Club Members!
Where: Weather permitted we will practice outside in the Newlands Pavilion at MacDonald park. Alternatively class will be held at the club in The Partridge Room Located on the second level.
When:
The next session will be meeting at the beach in front of the clubhouse at 1545h on Aug 31st. We will be adding dates in September based on participation
Time: 1600hrs
Cost:
The cost is $10 per session (which we will be happy to apply to your account)
Sign Up:
Please contact Greg McNab manager@kingstonyachtclub.ca
What to Bring:
Mat, comfortable clothes & H2O.
(A mat can be arranged in advance if you need, please contact Norah for this and with any questions pertaining to what will be covered in class).
A bit about Norah! http://www.bodymindkingston.com/about
For additional information please contact Norah norahgreatrix@gmail.com, she will be happy to answer any additional questions
---
Racing Update
Upcoming Events (a busy September!)
On Sept 12, the Carruthers Series consists of a small number of short races. This is always fun!
For sept 19, we are planning an Able Sail (fundraiser) Pursuit Race, starting near Collins Bay Marina and finishing at KYC. There will be evening festivities and an awards ceremony.
On Sept 26, we have our KYC Chase Race to close out racing for the year.

Race Management
Unfortunately, Karl Poldre, our Race Management Coordinator has recently been lured away to a full time job in Toronto, starting Sept 1. Karl provided excellent service to KYC and we will miss him. However, it's a great opportunity for Karl and we wish him well! Until we find a replacement, we will be providing a volunteer Orange Peel driver to help the volunteer RC crews. If you can volunteer as a driver for some races during September, please email ken.martin@kingstonyachtclub.ca. Training can be provided. Continue to send your racing-related emails to race@kingstonyachtclub.com, where they will be processed. Some patience will be required regarding processing of results and their posting for the next while.

1 D Sailing Cup
KYC is building a team to race in 1 D Sailing Cup in late September in Bronte Harbour. There's $1,000 in prize money. For more details, check out https://1dsailing.com/1dsailingcup/.If you are interested in participating please contact John Curtis at john@windathletes.ca.
---
THE ABLE SAIL REGATTA and
ANNUAL AMHERST ISLAND PURSUIT RACE
Will take place on Saturday 19th September
You may have noticed that the Able Sail program was extremely active this summer. We want to express thanks to everyone at KYC for their support, to Ira and Akash especially for their fantastic work, and to Ron Watts for his generous donation of the Sonar, Zest.
Zest has allowed us to do many things that were not feasible in the program that until now involved sailing in single-handed boats. What a thrill it has been to extend the joy of sailing to new groups:
-A group of blind teenagers from CNIB who can sail as a team.
-Elderly individuals who are lifetime sailors but have had to give up because of accessibility; in particular, think what it means for someone with Alzeimer's who may have lost many memories, but who when handed a tiller is back in his element.
-Many individuals for whom single-handed sailing is not suitable: those who require a professional attendant, those who are recovering from stroke and would like to sail with a supportive spouse, or those who just value the camaraderie of sailing with others.
Our program is growing almost faster than we can keep up, and we have set our course on a major fundraising campaign to ensure that next year we have the resources to meet this need and take more people sailing. To do so we need to hire an additional instructor and to purchase a support boat to manage all the boats on the water at once.
Please help by coming out to the annual event, which this year for the first time has been moved to KYC from Loyalist Cove Marina, where it has been generously hosted for the past several years.
For more information and registration forms, please go to the Marine Outfitters web site: http://www.marineoutfitters.ca/index.cfm?page=racing_amherst_info
---
Upcoming Events at KYC

August 29
Wine Dinner
September 5- 6
Waupoos Rendezvous
September 12
Carruthers Series
September 12
Wedding - Partridge Room
September 19
Able Sail Regatta/Pursuit Race
September 26
Chase Race
September 26
Wedding - Partridge Room
For a complete list of upcoming events please visit:
www.kingstonyachtclub.ca/calendar
---
KPSS Upcoming Courses
Please visit the KPSS website to register: kingstonboatingandsailing.ca
or contact May Corcoran at 613 536-5367