---
KYC's Debbie Loder Wins Kingston Blooms
As many of you will have noticed, KYC is lucky to have a beautiful garden between Saint's Rest and the Parking lot and it is all the work of Debbie Loder. This month all her hard work was recognized by the Kingston Blooms competition, where her garden won first place in the Large Garden category.
Debbie wants to extend a warm thank you to all of the people who voted for her garden. These votes placed her in the top three gardens of her category, which were then judged by the Kingston Blooms judges. Debbie was given a beautiful maple leaf plaque to be placed in her garden. Congratulations Debbie!
---
F&B Update
September Hours:
| Hours | Monday | Tuesday - Friday | Weekends |
| --- | --- | --- | --- |
| Kitchen | 1130-2000 | 1130-2100 | 1000-2100(2000 Sun) |
| Bar | 1130-2100 | 1130-2200 | 1000-2200(2100 Sun) |
Winter Hours Effective October 4, the bar & restaurant will be closed on Mondays.
| Hours | Tues-Wed | Thurs-Fri | Weekends |
| --- | --- | --- | --- |
| Kitchen | 1200-2000 | 1200-2100 | 1000-2100(2000 Sun) |
| Bar | 1200-2100 | 1200-2200 | 1000-2200(2100 Sun) |
Friday Dinner Feature:
Main:
Chef Neil's signature beef bourguignon, served with mashed potatoes
Suggested wine pairing: Boutinot Côtes du Rhône Villages.
New Drink Menu:
Although Gillian has left us for warmer climes this winter, she has left behind a great new cocktail list. Come in and try one of KYC's signature cocktails!
Beer of the Week:
This week's beer is MacKinnon Brothers' Red Fox Summer Ale, an easy drinking summer ale infused with beets with a crisp citra hop finish.
Upcoming Events:
Watch this space for more details on our fall & winter dinner series for 2014-2015. Starting in October we will be hosting a unique tasting dinner one Saturday a month. Seating will be limited for these special dinners. TGIF's will return on Friday October 2nd with a delicious dinner and appetizer feature.
---
THE ABLE SAIL REGATTA and
ANNUAL AMHERST ISLAND PURSUIT RACE
There is still time to sign up for the race, which will take place on Saturday 19th September
You may have noticed that the Able Sail program was extremely active this summer. We want to express thanks to everyone at KYC for their support, to Ira and Akash especially for their fantastic work, and to Ron Watts for his generous donation of the Sonar, Zest.
Zest has allowed us to do many things that were not feasible in the program that until now involved sailing in single-handed boats. What a thrill it has been to extend the joy of sailing to new groups:
-A group of blind teenagers from CNIB who can sail as a team.
-Elderly individuals who are lifetime sailors but have had to give up because of accessibility; in particular, think what it means for someone with Alzeimer's who may have lost many memories, but who when handed a tiller is back in his element.
-Many individuals for whom single-handed sailing is not suitable: those who require a professional attendant, those who are recovering from stroke and would like to sail with a supportive spouse, or those who just value the camaraderie of sailing with others.
Our program is growing almost faster than we can keep up, and we have set our course on a major fundraising campaign to ensure that next year we have the resources to meet this need and take more people sailing. To do so we need to hire an additional instructor and to purchase a support boat to manage all the boats on the water at once.
Please help by coming out to the annual event, which this year for the first time has been moved to KYC from Loyalist Cove Marina, where it has been generously hosted for the past several years.
For more information and registration forms, please go to the Marine Outfitters web site: http://www.marineoutfitters.ca/index.cfm?page=racing_amherst_info
---
September Gas Dock Hours
September Gas Dock hours will be 0900h - 1700h, seven days a week. Brad Strawbridge, our indefatigable yard steward will be manning the Gas Dock from Monday to Friday. As a result of Brad's other duties, he does get called away from the Gas Dock periodically, please be patient and he will do his best to be back as soon as possible. Weekend Gas Dock service will continue as normal.
---
Yoga @ KYC!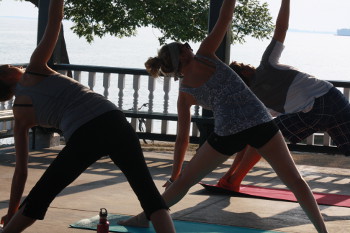 Yoga at KYC with Norah Greatrix!
Come down to KYC for yoga, every Monday!
Where: September classes will be held outside (Weather permitting) however please meet at the Clubhouse first.
When:
1545h, every Monday, classes formally start at 1600h.
Cost:
The cost is $10 per session (which we will be happy to apply to your account)
Sign Up:
Please contact Greg McNab manager@kingstonyachtclub.ca
What to Bring:
Mat, comfortable clothes & H2O.
(A mat can be arranged in advance if you need, please contact Norah for this and with any questions pertaining to what will be covered in class).
A bit about Norah! http://www.bodymindkingston.com/about
For additional information please contact Norah norahgreatrix@gmail.com, she will be happy to answer any additional questions
---
Racing Update

Results

Carruthers Series:
PHRF I: 1st Ritalin, 2nd Breakaway, 3rd Force 10
PHRF II: 1st Jammin, 2nd Finnish Line 2.0
August Series:
PHRF I: 1st Touch of Class, 2nd Force 10, 3rd Chirya (provisional, protest pending)
PHRF II: 1st Jammin', 2nd Selene, 3rd (tie) Scotia Maid and Finnish Line 2.0
Sharks: 1st Dartos, 2nd Shanti, 3rd Shadfly
We has a surprise "participant" in this week's Thursday race: a large cruise ship went through the finish line (the wrong way) while some KYC boats were still finishing!
Upcoming Events:
The Amherst Island Pursuit Race is being held this Saturday as a fund raiser for Able Sail. See details elsewhere (in Knotmeter and flyers). Individual start times (for each PHRF rating) are posted in KYC's Racing bulletin board.
Our KYC Chase Race will close out racing for the year next Saturday, Sept 25.
Race Management:
Thanks to Don Ruddy, Ross Cameron, and Robert & Christina Weguelin for helping our volunteer race committee crews run & score the races this month.
---
KPSS Upcoming Courses
Kingston Power & Sail Squadron will be offering a large number of boating courses through the fall and winter and all the courses will be hosted at KYC.
Restricted Maritime Radio - Saturdays, Oct. 3, Nov. 21, Feb. 13, April 9 from 10:00 am to 4:00 p.m.

Boat Projects - (NEW) Tuesday, Nov. 17 from 7:00 to 9:00 p.m.

Sailing - Wednesdays March 2 to May 4 from 7:00 to 9:00 p.m.

Marine Systems Related Maintenance- Wednesdays Jan 6 to Jan 27 from 7:00 to 9:00 p.m.

Marine Diesel Engine Maintenance - Saturday, Jan 9 from 9:00 a.m. to 3:00 p.m.

Boat Electrical Systems - Wednesdays, Feb. 10 to March 2 from 7:00 to 9:00 p.m.

Working with Fiberglass - Thursday, March 10 from 7:00 to 9:00 p.m
Please visit the KPSS website to register: kingstonboatingandsailing.ca
or contact May Corcoran at 613 536-5367
---
Upcoming Events at KYC

September 19
Wedding - Partridge Room
September 19
Able Sail Regatta/Pursuit Race
September 26
Chase Race
September 26
Queen's Dinner in Partridge Room
September 29
Last Weeknight Race of 2015
October 2
First TGIF of the Fall
For a complete list of upcoming events please visit:
www.kingstonyachtclub.ca/calendar