Knotmeter - August 29, 2013
---
Adult Learn to Sail Instructors Needed!
Due to the popularity of the ALTS program KYC has decided to offer a September session pending available instructors.
These sessions would ideally be run on a Saturday or Sunday throughout the month of September ( 4 sessions only ). Start and end times are very flexible. These sessions would be offered to beginners in the hopes they will come back to complete Level 2 next season.
If you are interested in volunteering please contact Brett Thompson at 613-548-3052 ext 1 or office@kingstonyachtclub.ca
---
Amherst Island Pursuit Race
& Able Sail Kingston Regatta
Saturday, September 14, 2013
Skipper's Meeting: 9:00 AM -- First Start: 10:00 AM
The 13th Annual Amherst Island Pursuit Race will for the third time run as a fundraiser for Able Sail Kingston, which offers recreational and competitive sailing instruction for persons with disabilities. This event is completely run and organized by local volunteers. The 2013 fundraising goal is $5000.
Pre-Race Breakfast
26.4 Nautical Mile Course
Race flags will be awarded in each division
Open to all lake Ontario sailors including BQYC, CBYC, KYC, & PEYC
Spinnaker and White Sail Handicaps available
Cruisers Welcome!
Photographer will be taking pictures that will be available for download after the event
Staggered Starts based on PHRF Handicap
Rendezvous Finish at Loyalist Cove Marina
Post Race Barbecue & Party with DJ! BYOB, Dinner starts at 5:30 PM.
Apres-BBQ Campfire.. it might go late!
Full Details can be found on the regatta website:
www.marineoutfitters.ca/index.cfm?page=racing_amherst_info
---
KYC Labour Day Weekend Hours
Food and bar service will operate on normal hours until Monday, September 2nd. At that time, food will be offered between 11:30am and 8pm and the bar will close at 9pm.
The office will be closed through the weekend, opening again at 9am Tuesday, September 3rd.
---
TGIF Sail
Friday, September 13th

Join us for our final TGIF sail of the year! The goal here is to get non-boaters on the water for an enjoyable evening on the lake!
If you are interested in participating email Glenn at manager@kingstonyachtclub.ca and indicate whether you are a boater or non-boater or sign up at the office or bar. The evening will cap off with social time, munchies, food special etc!
---
Upcoming Events at KYC
Aug 31
Labour Day Cruise Sackett's Harbour *Cancelled*
Sep 6-8
IOM Eastern Regional Championship
Sep 7
Carruthers Series
Sep 11
Women in Wind - Wednesday Night Sail Program ends
Sep 13
TGIF Sail
Sep 14
Amherst Island Pursuit Race & Able Sail Fundraiser
Sept 19
Women in Wind - AGM
Sept 26
Last Weeknight Race
Sept 27
Last day of Patio Menu (bar remains open)
For a complete list of upcoming events please visit:www.kingstonyachtclub.ca/calendar
---
Please Update Your Address Book
KYC is retiring the kyc@kingston.net email address.
The main address for the Kingston Yacht Club is office@kingstonyachtclub.ca
Please update your address book accordingly.
---
September Food Service
Being that everyone is enjoying this year's patio menu as well as the new patio it has been decided to continue food service until Friday, September 27th.
The menu will be altered slightly with daily service from 11:30am until 8:00pm. Click here for more details!
---
Web Improvements and Online Member Services
We have launched our new website which is a big improvement over our previous one. Thank you to everyone who contributed to the launch. Over the coming months we will be adding to the Members Area and will also be launching a mobile site so members can have quick access to key info when they are on the go.
The Members Area contains the Member Roster, your online account, ability to edit your contact info, plus previous Board and AGM minutes and documents.
If you haven't already logged in you can do so by clicking "Members Area" on the top right hand side of the page.

If you do not know your login, it is your member number such as "A123". If you need to reset your password, you can do so by clicking "Forgot your password or username?"
Any questions should be directed to the Main Office by emailingoffice@kingstonyachtclub.ca or calling 613.548.3052 x1
---
New Harbour - Latest Design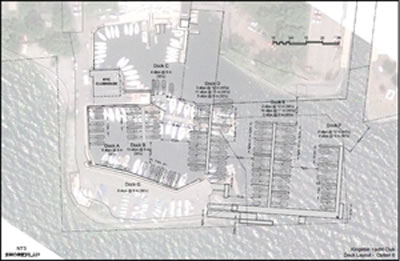 After several iterations with Shoreplan engineering, we are pleased to now have the latest revised design of the new harbour. The goal was to widen the fairways, maximize the use of the lot, and respond to concerns about JS launch and swimming. The strategic planning committee has reviewed the design, and has determined that this concept meets the criteria of our new harbour.
The Orange Buoy which marks the end of Dock F has been moved to reflect the new location and width of the entrance to the harbour. Please check it out as you use our harbour.
Basic concepts and evolution from the previous design:
Rotate the breakwater towards the SE corner of the water lot
Move the docks to 90 degrees to break water
Slide the docks west if needed
Add a ramp on the outside of the east of the dock / of attenuator about 30 ft. long - for swimming and boat launch
Add a swim station at about 50% along the attenuator. The intention that this is similarly substantial as the attenuator
Add a dock on the outside of the south side exterior ramp to facilitate boat staging and launch
Make the ramp to the attenuator the same width as the attenuator. To facilitate boat launch, fire/ rescue and the possibility of accessible access and possible golf cart/ gator access
Shorten the east Dock (F) by changing 4 slips to 30 ft. boats
Shorten Dock (E) using the same strategy
Add 2 * 40 slips on the east side of dock (E) and (D)
Allow access to the harbour and docks for large yachts on a "straight in" basis
---
PADI Diver Certification Opportunity
September 4th, 6th ,11th, 13th
Open to KYC members & friends to learn from the worlds most recognized & respected training organizations. See the wondrous world beneath the waves!
Click here for more information
---
Canadian Power Squadron - Fall and Winter Course Schedule
The Canadian Power Squadron course schedule for the fall and winter is now available here.
Visit their website for full info:
kingston.cps-ecp.org
---
Hours of Operation
| | Bar | Kitchen | Gas Dock | Office |
| --- | --- | --- | --- | --- |
| Monday | 11a -10p | 11a -9p | 8a-6p | Variable† |
| Tuesday | 11a -10p | 11a -9p | 8a-6p | 9a-5p |
| Wednesday | 11a -10p | 11a -9p | 8a-6p | 9a-5p |
| Thursday | 11a -10p | 11a -9p | 8a-6p | 9a-5p |
| Friday | 11a -10p | 11a -9p | 8a-6p | 9a-5p |
| Saturday | 11a -10p | 11a -9p | 8a-6p | Variable† |
| Sunday | 11a -10p | 11a -9p | 8a-6p | Variable† |
† Special events schedule will determine weekly office schedule for Saturday, Sunday & Monday
For more information on other KYC events and programs please visit our website. www.kingstonyachtclub.ca