Knotmeter - September 13, 2013
---
TGIF Sail
Friday, September 13th
Join us for our final TGIF sail of the year! The goal here is to get non-boaters on the water for an enjoyable evening on the lake!
If you are interested in participating email Glenn at manager@kingstonyachtclub.ca and indicate whether you are a boater or non-boater or sign up at the office or bar. The evening will cap off with social time, munchies, food special etc!
---
Amherst Island Pursuit Race
& Able Sail Kingston Regatta
Saturday, September 14, 2013
Skipper's Meeting: 9:00 AM -- First Start: 10:00 AM
The 13th Annual Amherst Island Pursuit Race will for the third time run as a fundraiser for Able Sail Kingston which offers recreational and competitive sailing instruction for persons with disabilities. This event is completely run and organized by local volunteers. The 2013 fundraising goal is $5000.
Pre-Race Breakfast
26.4 Nautical Mile Course
Race flags will be awarded in each division
Open to all lake Ontario sailors including BQYC, CBYC, KYC, & PEYC
Spinnaker and White Sail Handicaps available
Cruisers Welcome!
Photographer will be taking pictures that will be available for download after the event
Staggered Starts based on PHRF Handicap
Rendezvous Finish at Loyalist Cove Marina
Post Race Barbecue & Party with DJ! BYOB, Dinner starts at 5:30 PM.
Apres-BBQ Campfire.. it might go late!
Full Details can be found on the regatta website:
www.marineoutfitters.ca/index.cfm?page=racing_amherst_info
---
2013 Canadian IOM Eastern Region #1 Regatta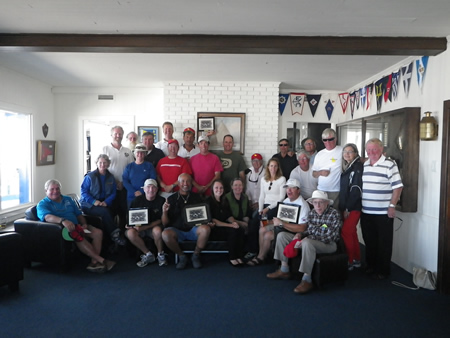 Another great regatta at KYC! Thanks for all competitors, volunteers, sponsors, staff, and members who helped make the regatta such a great success.
Congratulations to KYC's Peter Van Rossem for placing 2nd in the regatta.
Full Results here: kingstonyachtclub.ca/regattas
---
Watch America's Cup at KYC


Come down to KYC to watch all of the America's Cup action on TV. We will be watching it on the big screen (either via cable TV or streaming over the internet where available).

Full Schedule is available here: americascup.com/en/schedules/races
(add 3 hours to convert back to Eastern Time)

Check the front page of the KYC website for the latest viewing
---
Upcoming Events at KYC
Sep 13
TGIF Sail
Sep 14
Amherst Island Pursuit Race & Able Sail Fundraiser
Sept 19
Women in Wind - AGM @ 5:30
Sept 26
Last Weeknight Race
Sept 27
Last day of Patio Menu (bar remains open)
Oct 5-6
Queen's Open
Oct 12-14
Thanksgiving Cruise to Jemmett's Landing
Oct 18-20
Queen's Sailing Team Nationals
Oct 26
David McCallum Retirement Party
For a complete list of upcoming events please visit:www.kingstonyachtclub.ca/calendar
---

Thanks to KYC's Jeff Gibson for this shot of the rainbow that greeted racers at the end of Thursday's race night this week.
---
New Harbour - Latest Update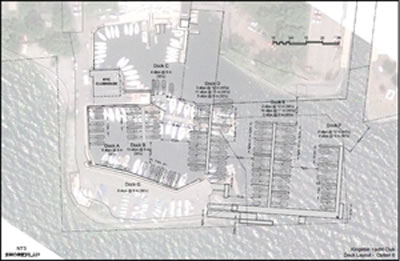 Work on the Harbour Redevelopment project has been going at a steady pace. The following is a quick updated of the activities recently undertaken:
The Board has engaged Shoreplan Engineering to provide a complete assessment of all of KYC's underwater infrastructure. This includes the breakwater, gabions, center dock, and club house foundations. This will provide the board with both the cost and options for addressing the center dock as part of the Harbour Redevelopment project, but also to provide accurate information about the condition of all other underwater aspects of the club for long term planning. You may see a professional dive team at the club performing the underwater inspection and documentation of everything from the gas dock to the East to the Maitland Street beach at the West.
The Board has approved Revision 6 (as posted below) to move forward with the development of an RFP for tendering. This revision increases harbour entrance widths, and entrance channel widths, and include additional enhancements for swimming and JS launch.
We have two wave pressure sensors placed in the new waterlot area to measure actual wave conditions that the new attenuator and docks will have to deal with. This is a project being carried out by KYC in conjunction with Ryan Mulligan, a coastal engineer at Queen's University. The data collected will be submitted to potential suppliers in order to ensure that solutions will provide the desired level of wave attenuation. The sensors will be extracted and replaced for an additional two month into the Fall to further collect data for the stronger winds more common at that time of year.
We have engaged an Electrical Engineering firm to provide an assessment as well as design and costing for upgrading the club electrical infrastructure. This is needed to supply an expanded harbour with proper electrical service as well as to upgrade aging electrical system for the club house, gas dock, and Saints Rest.
A Parking study is now underway. We will be evaluation our current parking availability, requirements, and how that may change with an expanded harbour. We are exploring various options to improve and/or increase on site parking, and well, we will work with the city to explore options to increase city parking in the vicinity of the club.
---
Families Needed for KYC Photoshoot
Be a star on the new website! We have teamed up with a professional photographer to take some action shots of members enjoying the club. We are looking for families who would be interested in having their photos used in KYC promotional material.
Please contact Matt White if you are interested.matt.white@kingstonyachtclub.ca
---
Food Service Extended into September!
This year the Patio Menu will continue until Friday September 27th.
Food service will operate on a condensed menu including specials between 11:30AM and 8:00PM daily and will be offered after races. Bar will close at 9:00PM.
September is a busy time at KYC and we are very
excited to offer an extended service this year.
---
Women in Wind Annual General Meeting
Thursday September 19th @5:30 PM
Appetizers will be served
Please RSVP manager@kingstonyachtclub.ca
---
David McCallum Retirement Party
Evening of Saturday, October 26th
Save the date!
Details to come.
---
Updated Fall Hours of Operation
Please note the Bar, Kitchen and Gas Dock are now operating on Fall Hours:
Hours of Operation
| | Bar | Kitchen | Gas Dock | Office |
| --- | --- | --- | --- | --- |
| Monday | 11a - 9p | 11:30a -8p | 9a-5p | Variable† |
| Tuesday | 11a - 9p | 11:30a -8p | 9a-5p | 9a-5p |
| Wednesday | 11a - 9p | 11:30a -8p | 9a-5p | 9a-5p |
| Thursday | 11a - 9p | 11:30a -8p | 9a-5p | 9a-5p |
| Friday | 11a - 9p | 11:30a -8p | 9a-5p | 9a-5p |
| Saturday | 11a - 9p | 11:30a -8p | 9a-5p | Variable† |
| Sunday | 11a - 9p | 11:30a -8p | 9a-5p | Variable† |
† Special events schedule will determine weekly office schedule for Saturday, Sunday & Monday
For more information on other KYC events and programs please visit our website. www.kingstonyachtclub.ca