Knotmeter - October 17, 2013
---
Dry Mooring Holders - Important Reminder
In preparation for haul-out all dry mooring holders must have their boats removed from the break wall and boat yard by
Monday, October 21st.
---
Weekend Service Update
We are hosting a fairly large Queen's Reunion event this Friday. Therefore, our regular food service menu will not be available. A pot of chili will be available at the bar for this Friday.
Everything will be as usual for the rest of the weekend.
---
Sunday Brunch
Brunch Continues this Sunday at 10:30AM.
Please click here for the menu.
Fall/Winter Food and Bar Hours
Please click here for our new hours effective Sept 30th.
---
Volunteers Required for Haul Out
October 23
6 volunteers required for cradle unloading. about 1/2 day, 0900 -1200
November 2
8 volunteers needed for mast de-stepping, 0900 til we're done
November 3
12-15 volunteers required for haul out. 0800 - 1600
For November 2-3
volunteers are required for the day.
Breakfast will be available for volunteers on haul out weekend.
Please contact: office@kingstonyachtclub.ca 613-548-3052 ext 1
if you are interested in participating.
---
KYC Awards Night Nominations
KYC Awards Night will be held on November 9, 2013 - please mark your calendars!
Nominations for the Special Awards are now open. Nominations must be submitted on the form in order to be considered. Forms are available at the bar, or by clicking the link below
Submissions are due October 21, 2013
Click here for the nomination form
---
David McCallum Retirement Party
October 26th, 1900hrs
David's Retirement Party will be on Saturday, October 26th. Doors will open at 1900hrs with Official Ceremonies starting at 2000hrs. Cocktail Reception style food will be available along with a cash bar.
The club will be presenting David with a KYC gift/momento. However, several members have inquired about "chipping-in" to get David something from the members as a group. If you are interested in being a part of this please contact Glenn Singleton, manager@kingstonyachtclub.ca.
---
Racing Pictures Still Needed!

We need your photos from the 2013 KYC Racing Season!
The more photos the better.
If you have some, please drop off a CD or thumb drive to the KYC office, or send to matt.white@kingstonyachtclub.ca
The best photos will be featured on the end of the year slideshow at Awards Night
---
Upcoming Events at KYC
Oct 18-20
Queen's Sailing Team Nationals
Oct 26
David McCallum Retirement Party
Oct 30
Cradles Unloaded
Nov 2
Mast De-stepping
Nov 3
Haulout
Nov 7
Cruiser's AGM
Nov 9
Awards Night
Nov 28
Annual General Meeting
For a complete list of upcoming events please visit:www.kingstonyachtclub.ca/calendar
---
Spectator Boats Needed for Queen's Regatta
Queen's Sailing Team would like volunteer spectator boats for Oct 19th & 20th. If you are interested please contact Nicole Czegledy: nczegledy@gmail.com
---
Awards Night
November 9, 2013
Doors open: 1800hrs
Dinner served:1900hrs
$29.95 plus HST and Gratuity

RSVP with Glenn Singleton:
manager@kingstonyachtclub.ca
613-548-3052 ex 4
Please include:
number in party, boat name, any dietary restrictions
---
New Harbour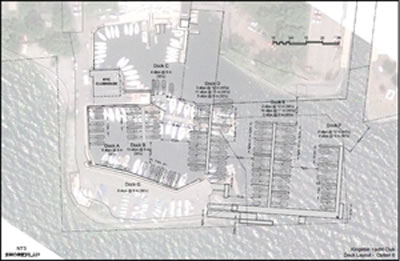 Work on the Harbour Redevelopment project has been going at a steady pace. The new design and complete background on the New Harbour project can be found here:
www.kingstonyachtclub.ca/newharbour
---
Cruisers AGM
The cruisers AGM is set for Thursday Nov 7 at 1930 upstairs at the Club.Please bring yourselves and ideas for what we should be doing in 2014.
---
Please Update Your Address Book
KYC is retiring the kyc@kingston.net email address.
The main address for the Kingston Yacht Club is office@kingstonyachtclub.ca
Please update your address book accordingly.
---
Hours of Operation
| | Bar | Kitchen | Gas Dock | Office |
| --- | --- | --- | --- | --- |
| Monday | 4p-9p | Closed | 9a-5p | Variable† |
| Tuesday | 4p-9p | Closed | 9a-5p | 9a-5p |
| Wednesday | 4p-9p | Closed | 9a-5p | 9a-5p |
| Thursday | 4p-9p | 4p-8p | 9a-5p | 9a-5p |
| Friday | 4p-9p | 4p-8p | 9a-5p | 9a-5p |
| Saturday | 12a-8p | 12a-8p | 9a-5p | Variable† |
| Sunday | 10a-6p | 10:30a-6p | 9a-5p | Variable† |
† Special events schedule will determine weekly office schedule for Saturday, Sunday & Monday
For more information on other KYC events and programs please visit our website. www.kingstonyachtclub.ca