Knotmeter - October 31, 2013
---
Haulout
Please check the link below for information regarding haulout including estimated order.

Click here
---
Hours of Operation Update
Starting Nov 4th the office will be closed on Mondays.
Gas Dock will be available by appointment. Please call ahead to make sure you can get served.
Starting Nov 11th The Bar will be closed on Mondays.
See the schedule at the bottom of the Knotmeter or check the website for details.
---
Awards Night
November 9, 2013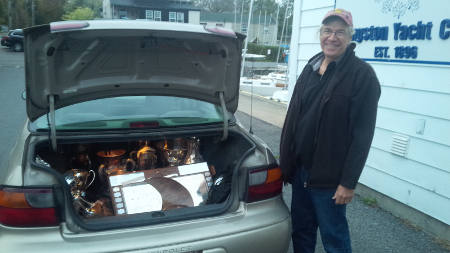 Trophies are on their way to Trophy House to get the 2013 Award Treatment!
Doors open: 1800hrs
Dinner served:1900hrs
$29.95 plus HST and Gratuity

RSVP with Glenn Singleton:
manager@kingstonyachtclub.ca
613-548-3052 ex 4
Please include:
number in party, boat name, any dietary restrictions
---
Sunday Brunch
Brunch Continues this Sunday at 10:30AM.
Please click here for the menu.
Fall/Winter Food and Bar Hours
Please click here for our new hours effective Sept 30th.
---
Volunteers Required for Haul Out
November 2
8 volunteers needed for mast de-stepping, 0900 til we're done
November 3
12-15 volunteers required for haul out. 0800 - 1600
For November 2-3
volunteers are required for the day.
Breakfast will be available for volunteers on Sunday.
Please contact: office@kingstonyachtclub.ca 613-548-3052 ext 1
if you are interested in participating.
---
Racing Pictures Still Needed!

We need your photos from the 2013 KYC Racing Season!
The more photos the better.
If you have some, please drop off a CD or thumb drive to the KYC office, or send to matt.white@kingstonyachtclub.ca
The best photos will be featured on the end of the year slideshow at Awards Night
---
New Harbour Project Timeline now Spring 2015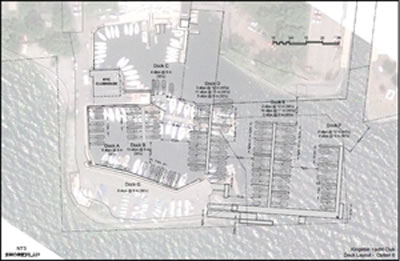 Work on the Harbour Redevelopment project has been going at a steady pace. We are working to secure financing, and the tender document for the dock equipment is almost complete.
A new project schedule has been adopted with a completion goal of Spring 2015.
For more information, please see the letter from the Commodore dated October 25, 2013 which is available on the website:
www.kingstonyachtclub.ca/newharbour
---
Upcoming Events at KYC
Nov 1
TGIF - Haulout - 5:30PM
Nov 2
Mast De-stepping
Nov 3
Haulout
Nov 7
Cruiser's AGM
Nov 9
Awards Night
Nov 28
Annual General Meeting
Dec 1
Children's Christmas Party
Dec 12
Ladies' Christmas Lunch
Dec 13
Roast Beef Feast and Carol Sing
For a complete list of upcoming events please visit:www.kingstonyachtclub.ca/calendar
---
Interested in Volunteering?
Are you interested in keeping the Club a vibrant place?
Consider running for a position on the Board, or joining a committee and help make a difference to the future of your Club. If you are interested in contributing please contact the manager and let him know what your interests are! manager@kingstonyachtclub.ca
---
KYC Athlete Update
KYC is thrilled and proud to have 2 athletes that are committed to being the best that they can be and are pursuing an opportunity and goal of representing Canada at the Olympics
Robert Davis is competing in the Laser class, is one of Canada's top Laser sailors and is ranked internationally as the second best in Canada at 32 in the World.
Robert is now preparing for the Worlds Championships in Oman in November.
Danielle Boyd is competing in the newest Olympic Class the 49'er FX woman's skiff. Dani and her helm Erin Rafuse have just returned from the worlds Championships in France where they finished 30th.

Wind Athletes Canada has now made it possible to donate to these programs and get a tax receipt for all donations. Wind Athletes has also made sure that all funds are directed to the athletes with no admin fees.
for more information on these sailors or how to donate….please check out their team websites and Wind Athletes Canada.

www.robertdavissailing.com
www.teamrafuseboyd.com
www.windathletes.ca/donate
---
Cruisers AGM
The cruisers AGM is set for Thursday Nov 7 at 1930 upstairs at the Club.Please bring yourselves and ideas for what we should be doing in 2014.
---
Please Update Your Address Book
KYC is retiring the kyc@kingston.net email address.
The main address for the Kingston Yacht Club is office@kingstonyachtclub.ca
Please update your address book accordingly.
---
Hours of Operation
| | Bar | Kitchen | Gas Dock | Office |
| --- | --- | --- | --- | --- |
| Monday | 4p-9p | Closed | By Appointment | Closed |
| Tuesday | 4p-9p | Closed | By Appointment | 9a-5p |
| Wednesday | 4p-9p | Closed | By Appointment | 9a-5p |
| Thursday | 4p-9p | 4p-8p | By Appointment | 9a-5p |
| Friday | 4p-9p | 4p-8p | By Appointment | 9a-5p |
| Saturday | 12a-8p | 12a-8p | Closed | Closed |
| Sunday | 10a-6p | 10:30a-6p | Closed | Closed |
† Special events schedule will determine weekly office schedule for Saturday, Sunday & Monday
For more information on other KYC events and programs please visit our website. www.kingstonyachtclub.ca