Knotmeter - November 8, 2013
---
David McCallum Retires from KYC
by Valerie Soper

For almost 120 years the Kingston Yacht Club has stood on the shores of Lake Ontario at the foot of Maitland Street, across from City Park. For over one-third of its history, one man has occupied the position of "Yard Steward." Here are a few words I didn't express at David McCallum's retirement party.
David McCallum-tall (he's looking especially tall beside me tonight, and betcha didn't think he could tidy up so spiffy!), quiet, stoic, dependable, reliable, patient; you fill in the rest-is retiring, effective tomorrow. It is the end of an era. After almost 43 years of his dream job of "simply messing about with boats" for a living, it is now time to pass the wrench. He will be missed.
David has never needed an alarm clock. He gets up at the same time every morning, eats the same breakfast, leaves for work at the same time; never says much. At the end of the day, he never brought his work home with him. I had to do most of the talking-which I did, filling in the gaps with vacuous replays of my endless shifts at the hospital, or with what the cats did that day.
He is a good listener.
I learned only tonight of some of how he filled his days on the job, how he would head out after coffee every morning, go on a walk-about, check on things, look after his charges. Then he'd start in on whatever needed doing. And in my perception, if it may have looked as if his brain were half-empty whenever he was deeply absorbed in a project, it was only the outward appearance of a man truly without pretense or ego. He got the job done.
For months the awful question of "Who's going to replace David?" hung heavily upon the lips of the Membership and Board. Someone has stepped up to the plate. Best of luck to you, Brad. Your knowledge and experience count for a lot, as does your sense of humour. May your days be as numbered on the job as David's were (give or take!). You're a good sport.
David is retiring at last, and so have I. (We bought a bigger house, so I think that's going to work out.) He'll now have the time to spend on, and in, his own boats, to wash some windows , and to play with the "grand-pets," our five lucky indoor housecats who all just adore him . . . to read, and to fall asleep in front of the television. Ah, retirement!!
Happy retirement, David. You grew up on the water at Cartwright Point, and now we have the Rideau Canal at our back at Seeley's Bay. You may think you made the right career choice, but it chose you.
Lastly, it can be safely said that no matter how many times you banged your head, you never lost it.
Congratulations on a job well done.
---
Hours of Operation Update
Food and Beverage - Saturday Nov, 9 the Kitchen will close at 4pm to facilitate preparations for Awards Night dinner.
The office and bar are now closed on Mondays.
Gas Dock will be available by appointment. Please call ahead to make sure you can get served.
See the schedule at the bottom of the Knotmeter or check the website for details.
---
Awards Night
November 9, 2013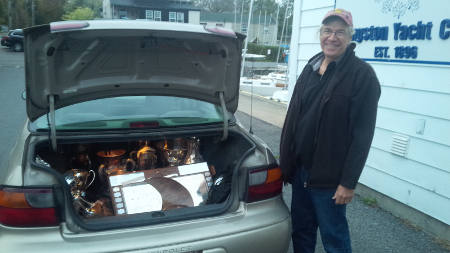 Doors open: 1800hrs
Dinner served: 1900hrs
$29.95 plus HST and Gratuity

Reservations are now closed.
To all of you that are coming, see you Saturday night!
---
Sunday Brunch
Brunch Continues this Sunday at 10:30AM.
Please click here for the menu.
Fall/Winter Food and Bar Hours
Please click here for our new hours effective Sept 30th.
---
Interested in Volunteering?
Are you interested in keeping the Club a vibrant place?
Consider running for a position on the Board, or joining a committee and help make a difference to the future of your Club. If you are interested in contributing please contact the manager and let him know what your interests are! manager@kingstonyachtclub.ca
---
Upcoming Events at KYC
Nov 9
Awards Night
Nov 28
Annual General Meeting
Dec 1
Children's Christmas Party
Dec 12
Ladies' Christmas Lunch
Dec 13
Roast Beef Feast and Carol Sing
For a complete list of upcoming events please visit:www.kingstonyachtclub.ca/calendar
---
New Harbour Project Timeline now Spring 2015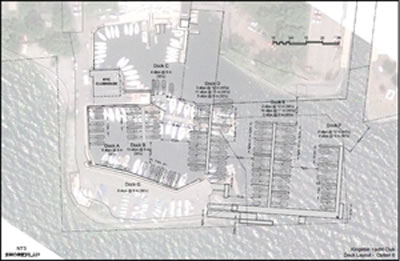 Work on the Harbour Redevelopment project has been going at a steady pace. We are working to secure financing, and the tender document for the dock equipment is almost complete.
A new project schedule has been adopted with a completion goal of Spring 2015.
For more information, please see the letter from the Commodore dated October 25, 2013 which is available on the website:
www.kingstonyachtclub.ca/newharbour
---
De-masting and Haulout 2013
As most of you know, we had two very successful days dropping masts and raising boats last weekend.
And as usual, we have had many volunteers who returned and gave their time and expertise for those two days, and their contributions made everything go smooth and easy.
The mast-down crew were: Chris Phippen on signals, Peter Van Rossem, Ken Martin, Lou Franchi, Jim Beatson, John Mason, Jeanine Buttle, Rob Colwell, Don Curry, Ross Cameron, myself and of course our essential timer, Mary Westerland. We were blessed with a "bonus", in that Brian brought a light crane, instead of the usual boom truck, thus giving us the flexibility to haul the T-dock, which we did. That manoevre saved us three quarters of an hour on Sunday morning. Thanks also extended to Don Curry and John Chown, whose boats, Bagatelle and Margie were used as staging boats, thus making the lifting of masts a more efficient process.
Sunday's haul out was by all accounts, flawless. It finished at an unprecedented time of 1430!
Brian's artistic manipulation of his crane, guided by Harrison's signals, made for some needle threading, fascinating moments......
KYC Haulout, the annual puzzle that it is, is made very efficient, again, by a returning posse of able volunteers.
Our slingers, Lou Francetti, Ken Martin, Mike Charrette, and Darwin Muir delivered three sets of slings to our gang of happy hookers: Phil Hart, Andrew Kelm, Rob Colwell and John Kitney who then delivered boats to our liners, Jim Beatson, Don Curry and Chris Walmsley.
Thanks also to Harrison Cohrs for providing signals to Brian, and again to Mary Westerland for timing the event and of course to Ross Cameron for on-the-fly coordination of what to put- where. All in all a very efficient operation!
I want to single out, as group(s) all those who "stuck it out" from start to finish. These events does not go as smooth as it does without your start-to-finish dedication, and on behalf of all members I extend our thanks.
Now for a little "heads up". Assuming that the harbour project proceeds next year, there will need to be substantial changes to what we put, where, in the yards.
These measures will be implemented to allow for equipment to get to the east end of the breakwater in order to build, "whatever we need to build".
We haven't figured it all out yet; as this is a work in progress, but we anticipate the following:
Masts will be located on Club racks, more or less under the flagpole.
We will be placing the boats as far west on the breakwater as we can .
In order to reduce breakwater congestion will be filling the yard as full as possible, hopefully as many as ten more than the nineteen in there now. To fill the yard, it may require that boats storing long, overhanging masts, store those masts with the rest of the masts.
Lots to figure out in due course.
Once again, thanks to everyone for their help; another successful run!
Cheers,
Peter Cohrs
For those that are interested please click here for future haulout/launch dates.
---
KYC Athlete Update
KYC is thrilled and proud to have 2 athletes that are committed to being the best that they can be and are pursuing an opportunity and goal of representing Canada at the Olympics
Robert Davis is competing in the Laser class, is one of Canada's top Laser sailors and is ranked internationally as the second best in Canada at 32 in the World.
Robert is now preparing for the Worlds Championships in Oman in November.
Danielle Boyd is competing in the newest Olympic Class the 49'er FX woman's skiff. Dani and her helm Erin Rafuse have just returned from the worlds Championships in France where they finished 30th.

Wind Athletes Canada has now made it possible to donate to these programs and get a tax receipt for all donations. Wind Athletes has also made sure that all funds are directed to the athletes with no admin fees.
for more information on these sailors or how to donate….please check out their team websites and Wind Athletes Canada.

www.robertdavissailing.com
www.teamrafuseboyd.com
www.windathletes.ca/donate
---
---
Hours of Operation
| | Bar | Kitchen | Gas Dock | Office |
| --- | --- | --- | --- | --- |
| Monday | Closed | Closed | By Appointment | Closed |
| Tuesday | 4p-9p | Closed | By Appointment | 9a-5p |
| Wednesday | 4p-9p | Closed | By Appointment | 9a-5p |
| Thursday | 4p-9p | 4p-8p | By Appointment | 9a-5p |
| Friday | 4p-9p | 4p-8p | By Appointment | 9a-5p |
| Saturday | 12a-8p | 12a-8p | Closed | Closed |
| Sunday | 10a-6p | 10:30a-6p | Closed | Closed |
† Special events schedule will determine weekly office schedule for Saturday, Sunday & Monday
For more information on other KYC events and programs please visit our website. www.kingstonyachtclub.ca