Knotmeter - November 19, 2013
---
Annual General Meeting
The 2013 Annual General Meeting is scheduled for Thursday, November 28, 2013 at 1900hrs.
Notice of Meeting
Click here for the Official Notice of Meeting
Director and Auditor Reports
Director and Auditor Reports will be available at the office as of Friday, November 22, 2013, and, as well, at the AGM itself. If you would like these reports emailed to you please inform the General Manager at the contacts below. Also, AGM documents will be posted on the Member's Area of the website.
KYC members that would prefer to have the AGM package delivered to their home or workplace need only to inform the General Manager at the contacts below.
Buffet Dinner
This year a buffet dinner will be available prior to the AGM from 1730hrs to 1830hrs with the meeting to start at 1900hrs. The buffet dinner price is $13.95. Reservations are required for the buffet dinner and can be made by contacting the General Manager
Attend via Online Meeting
Continuing on a trial basis we will allow members to attend the 2013 AGM electronically. To be eligible members must: a) register their intent to attend electronically by contacting the General Manager before 12pm EST Friday, November 22, 2013; b) must be located at least 80kms from KYC during the meeting; c) must remotely attend the meeting for its entire duration; and d) have the appropriate computing capability to login to the Online Meeting Software chosen by KYC. A conference call phone number may be available, but voting will not be permitted over the phone.
General Manager Contacts:
Please direct all questions to the General Manager at the contacts below:
manager@kingstonyachtclub.ca or 613-548-3052 ext 4
---
New Menu
We are very pleased to announce a new menu offered at KYC from Thursday-Saturday! This menu is geared toward sharing, and warming up after fall/winter activities.
---
Grey Cup Party!
Sunday, Nov 24 @ 6PM
Main Bar
Squares game with winner after each half!
$2 per square or 3 for $5.
25% off all appetizers!
---
Malivoire Wine TGIF


Friday, November 22nd, 17:30hrs

Please join us for an evening with Ian Nichols from Malivoire Wine.
Malivoire has offered some great additions to our wine list including Lady Bug Rose and Guilty Men Cab Merlot.
Samples of some of their other offerings will be available.
Please visit www.malivoire.com for their full selection.
Don't miss this great opportunity!
---
Hockey Night @ KYC
Live! At the KYC bar!
Every Saturday.
Puck drops at 7pm
---
KYC Family Christmas Party
December 1st will soon be here. On this day, we hope you bring your kids down to KYC for some holiday cheer!!
What?: A fun get together with sailing friends…enjoy some games, crafts and a visit from Santa!!
When?: 2-4pm, December 1st. Santa will arrive at around 315pm.**
Where?: Upstairs at KYC
***Guardians/Parents/Grandparents: Please bring a wrapped gift with you child's name on it to KYC office by 3pm. If you have any questions please contact Erika erika@powick.ca
---
Help Us Find Missing Awards Night Programmes

We are currently updating our trophy records into a digital format. We have identified some gaps in the information and are requesting help from the membership.
We are looking for copies of the KYC Awards Night Program for the following years: 1997,
2003, 2004, 2005, 2006, 2007, 2010.
If you have a copy, please drop it off in David Page's mailbox at KYC or email to archivist@kingstonyachtclub.ca
---
Upcoming Events at KYC
Nov 22
TGIF - Malivoire Wines
Nov 23
Hockey Night @ KYC
Nov 24
Grey Cup Party @ 6PM
Nov 28
Annual General Meeting
Dec 1
Children's Christmas Party
Dec 12
Ladies' Christmas Lunch
Dec 13
Roast Beef Feast and Carol Sing
For a complete list of upcoming events please visit:www.kingstonyachtclub.ca/calendar
---
KYC Marine Railway - A Brief History
With the closing of the Club's marine railway, it is the right time to stand back and look at the history of this example of 19th century technology and its use in the marine industry.
Click here for a great article by KYC Archivist David Page on the KYC Railway
---
Sunday Brunch
Brunch Continues this Sunday at 10:30AM.
---
West Marine Event
West Marine Kingston is pleased to invite all Yacht Club Members to an exclusive evening at your local West Marine Location.
Friday, December, 6 6pm to 8 pm
Snacks, drinks (sorry non alcoholic) provided for KYC members.

Kingston Yacht Club members will be able to enjoy commercial pricing (Port Supply Pricing) plus an additional discount for their personal purchases.
For example we will take an additional:

15% on foul weather gear
10% on most items in the store
5% on electronics and boats

These discounts will not apply to items already sale priced.

Feel free to contact us with any questions, or for any information you may require.
KYC members may also order items ahead of time to be picked up the evening of Dec.,6, 2013. We can also place orders that evening for pick up at a later date, special pricing will apply.
Please click here for a coupon! KYC Office can print one off by request.
Hope to see everyone!
---
David McCallum Retires from KYC
by Valerie Soper

For almost 120 years the Kingston Yacht Club has stood on the shores of Lake Ontario at the foot of Maitland Street, across from City Park. For over one-third of its history, one man has occupied the position of "Yard Steward." Here are a few words I didn't express at David McCallum's retirement party.
David McCallum-tall (he's looking especially tall beside me tonight, and betcha didn't think he could tidy up so spiffy!), quiet, stoic, dependable, reliable, patient; you fill in the rest-is retiring, effective tomorrow. It is the end of an era. After almost 43 years of his dream job of "simply messing about with boats" for a living, it is now time to pass the wrench. He will be missed.
David has never needed an alarm clock. He gets up at the same time every morning, eats the same breakfast, leaves for work at the same time; never says much. At the end of the day, he never brought his work home with him. I had to do most of the talking-which I did, filling in the gaps with vacuous replays of my endless shifts at the hospital, or with what the cats did that day.
He is a good listener.
I learned only tonight of some of how he filled his days on the job, how he would head out after coffee every morning, go on a walk-about, check on things, look after his charges. Then he'd start in on whatever needed doing. And in my perception, if it may have looked as if his brain were half-empty whenever he was deeply absorbed in a project, it was only the outward appearance of a man truly without pretense or ego. He got the job done.
For months the awful question of "Who's going to replace David?" hung heavily upon the lips of the Membership and Board. Someone has stepped up to the plate. Best of luck to you, Brad. Your knowledge and experience count for a lot, as does your sense of humour. May your days be as numbered on the job as David's were (give or take!). You're a good sport.
David is retiring at last, and so have I. (We bought a bigger house, so I think that's going to work out.) He'll now have the time to spend on, and in, his own boats, to wash some windows , and to play with the "grand-pets," our five lucky indoor housecats who all just adore him . . . to read, and to fall asleep in front of the television. Ah, retirement!!
Happy retirement, David. You grew up on the water at Cartwright Point, and now we have the Rideau Canal at our back at Seeley's Bay. You may think you made the right career choice, but it chose you.
Lastly, it can be safely said that no matter how many times you banged your head, you never lost it.
---
New Harbour Project Timeline now Spring 2015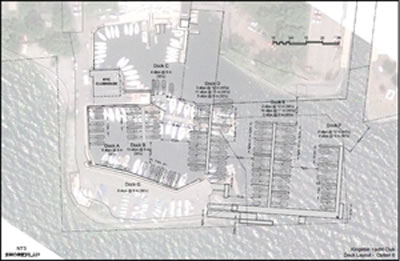 Work on the Harbour Redevelopment project has been going at a steady pace. We are working to secure financing, and the tender document for the dock equipment is almost complete.
A new project schedule has been adopted with a completion goal of Spring 2015.
For more information, please see the letter from the Commodore dated October 25, 2013 which is available on the website:
www.kingstonyachtclub.ca/newharbour
---
Hours of Operation
| | Bar | Kitchen | Gas Dock | Office |
| --- | --- | --- | --- | --- |
| Monday | Closed | Closed | By Appointment | Closed |
| Tuesday | 4p-9p | Closed | By Appointment | 9a-5p |
| Wednesday | 4p-9p | Closed | By Appointment | 9a-5p |
| Thursday | 4p-9p | 4p-8p | By Appointment | 9a-5p |
| Friday | 4p-9p | 4p-8p | By Appointment | 9a-5p |
| Saturday | 12p-10p | 12p-9p | Closed | Closed |
| Sunday | 10a-6p | 10:30a-6p | Closed | Closed |
† Special events schedule will determine weekly office schedule for Saturday, Sunday & Monday
For more information on other KYC events and programs please visit our website. www.kingstonyachtclub.ca