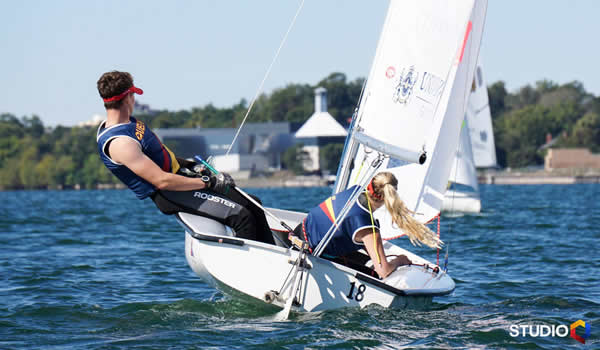 The Kingston Yacht Club, in partnership with Queen's University Faculty of Arts and Science and the Queen's University Sailing Club, is excited to be hosting the first Intro to Varsity Sailing event this September in the fresh water sailing capital of the world. Truly a place to "come for the sailing, but stay for a degree"!

This invitation-only event is only open to 20 sailors from across the globe that meet the following criteria:

Minimum of three regattas at the provincial, national or international level with standing in the championship fleet.
B+ GPA or higher in high school.
Between 15-18 years of age.

The 3-day program, September 15-17, will include high performance coaching in 420s, keelboat racing and team racing – a very popular and fun varsity sailing experience, as well as 5 meals including a dinner with Queen's Sailing Team alumni and Olympians. Throughout the weekend, participants will have campus tours of the beautiful Queen's campus and leave with a great swag bag full of gear.

Sailor selection will happen on or before September 7, 2017. Selected sailors will be invited to participate by September 9th via email. If selected, there is a nominal fee of $120, payable to KYC. The fee covers all coaching, equipment, meals and activities. It does not cover accommodations, travel or extra expenses. These arrangements are up to each participant and their guardians. Supervision will NOT be provided between 8pm-8am Friday or Saturday.