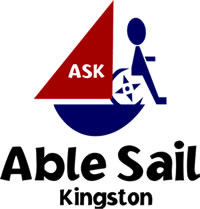 Able Sail Kingston has been operating an adapted sailing program for people with disabilities at Kingston Yacht Club since 2002. Even those with extremely limited mobility can sail on an equal basis with the other sailors using our specially designed and adapted boats, the Martin 16 for single-handed sailing, and the Sonar for crews of up to six people. Our boats are completely safe, and cannot capsize or sink. The controls are for people who are unable to move about as they would in other sailboats. As one of our sailors said, "the only time I forget I can't walk is when I'm dreaming or sailing."
Programs offering recreational, competitive, and Paralympic sailing instruction for persons with a disability now exist in over 20 communities across Canada, and some of those who have started out in the learn-to-sail programs have gone on to Paralympic Gold, while others enjoy cruising the beautiful shoreline of Lake Ontario.
For more information on accessible sailing, please visit the Ontario Sailing Able Sail site.
The Sailboats
The Martin 16 is an easily driven, 16-foot sloop, with a narrow; long hull for performance and control. The cockpit features an adjustable, ergonomically designed helm seat forward, designed for a single sailor, with a second seat aft to accommodate a passenger or instructor. A unique "joystick" controls the responsive, transom-hung rudder. The boat can also be operated using an electronic joystick, or a sip-and-puff system. This boat is ideal for any level from the complete beginner to more advanced sailor.
The Sonar is a 23-foot Paralympic class sloop that can accommodate up to six persons in an open cockpit. The aft skipper seat is designed to transfer from side to side, and the boat is equipped with bars for stability. An optional forward adapted crew seat can also accommodate a sailor with any level of ability. The Canadian Sonar team won a Bronze Medal in both Sydney in 2000 and Rio de Janiero in 2016. The Able Sail Kingston Sonar is equipped with a furling jib and spinnaker.
The 13-foot 2.4 Metre is the single-person Paralympic class in which Paul Tingley won a Gold Medal at Beijing in 2008, the only Gold Medal ever won by a Canadian in any class of sailing. This boat is designed according to the "metre" rule, which makes it highly responsive and maneuverable, and technically challenging for the more advanced sailor.
The Program
Kingston's first adapted sailing program is open to anyone who requires some help to accommodate a disability.. No previous sailing experience is required. All that's required is a desire to experience the tremendous feeling of freedom sailing has to offer, and the desire to challenge oneself by trying something new. The program is currently offered to participants with physical disabilities, including participants with hearing or visual impairments. Sonar sailing is offered to anyone who does not have the ability to shift easily from side to side, and it may be booked to accommodate friends and family members of regular program participants.
The "Learn to Sail" program offers supervised sailing instruction which includes both practical on-water sessions and sailing theory. Participants will receive on shore instruction in sailing theory, safety, knots and rigging. Each day participants will enjoy the fun of sailing in a "Martin 16". The instructional curriculum will be based on the Sail Canada standard.
Specially designed sailboats - that will not capsize and are easily accessible
Supervised or instructional courses offered starting in June
Course times are flexible and can be personalized to fit your schedule
Great opportunity to get outdoors and try a new recreational sport on Kingston's waterfront
New Sailors:
Learn to Sail courses are run throughout the summer. Memberships cost $250.00 for the season. This includes a corporate membership with Kingston Yacht Club. All memberships are guaranteed at least 1-2 sails per week. Free one day trials are available. Contact the ASK Head Instructor for more information.
Returning Sailors:
Returning sailors can schedule sailing times throughout the summer by contacting the head instructor through the email listed below.
Annual fee is $250.00.

Sonar Groups:
Groups of 3−4 people can book to sail the Sonar with two qualified sailors for a minimum cost of $40.00 per person.
All sailors should ensure that they wear a hat, sunglasses with UV protection, sunscreen, and shoes with rubber soles that will not mark the white surface of the boats. Please bring a water bottle, and a rain jacket in case it is needed. Sailors under the age of 18 require a parental waiver.
Donate/Pay Fees
Able Sail Kingston appreciates the generosity of individuals who believe in our program and would like to make a tax deductible charity donation. To make a donation and qualify for a Charitable tax receipt (min $25 donation to qualify) you will need to donate via the Paypal button below (Paypal account not required). You can also use the donate button to pay sailing fees:
Contact Us
Email: ablesailkingston@gmail.com
Visit our Facebook page for updates throughout the year including special events, fundraisers, and more!
Facebook: Able Sail Kingston
KYC Main Office: 613.548.3052
Able Sail Kingston
1 Maitland Street
Kingston, Ontario
Canada K7L 2V3

ASK Board Members

Audrey Kobayashi, President
David Grightmire, Vice-President
John Curtis, Secretary
Ryan, Moore, Treasurer
Matt White, Director