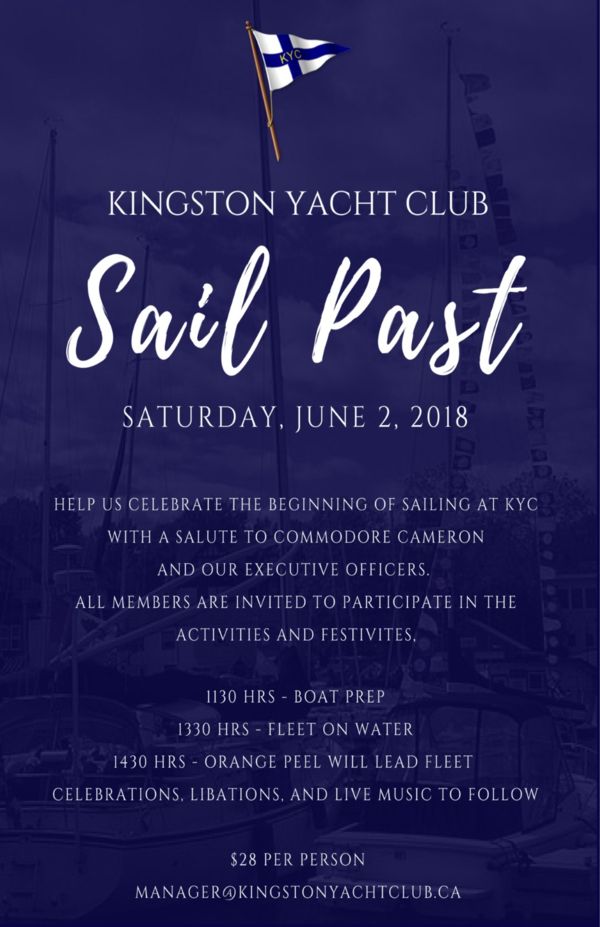 Detailed Sailpast SIs
1330 hrs Please be on water
1400 hrs The Orange Peel will stand near Myles Shoal as a marshalling point for the fleet (this may vary in a North Wind)
1430 hrs The Orange Peel, displaying Code Flag 'L' will lead the fleet to the Sailpast & Review of the Fleet
We will be doing the same concept as last year's dinner which we found very successful and had fantastic reviews about! Chef will be creating Multiple Food Stations as well as passed Hors D'oeuvres – Plenty of food and a tremendous selection! We are reviewing set up (as you may have seen, staff have done a great job in creating a new patio outside the Clubhouse for all to enjoy).
Sailpast:
Commodore Cameron and our Executive Officers will Review the Fleet from Rear Commodore's Boat La Galouine, which will be located south of the KYC Flag Staff. Participants should assemble on the water at 1400hrs, in the vicinity of the Orange Peel.
For details, participants should monitor VHF Ch.71 or come within hail of the Orange Peel. The order of sail will be in-line, from the smallest to the largest, power and sail intermixed.
Salute:
Participants should salute to the Commodore by dipping their ensign or luffing their foresail.
Celebration ashore:
After sailing-past, return to KYC and "dress ship". Mooring allocation for boats that are not normally moored at KYC will be available. Call 'KYC Gas Dock' on channel 71.
Awards:
Each Year the Reviewing Group Presents Awards for various reasons, some created during Sailpast?.
Menu: $28
This year's sail past menu will be in the form of a cocktail style reception:
If you have been to our Spring Food & Beverage Fair or December's Commodore's Christmas Party – you know what kind of experience you are in for! (We may also be sampling some product….)
We will be asking all to check in at the bar before you "hit" the Food Stations.
Let's celebrate the many things we have accomplished this past spring!
Music will be performed by Head Over Heels & the Bob Robertson Trio
Alternatively: Reserve your food tickets contact Greg by e-mail at
manager@kingstonyachtclub.ca or by phone at (613) 548-3052