---
Kingston Blooms at KYC!
Vote for KYC St. Rest's Garden in Kingston Blooms Competition (Pictured above)
Our very own KYC member Debbie Loder's garden, located in the lane-way behind Saint's Rest, has been nominated for this year's Kingston Blooms Competition.

We need you help! This year, Kingstonians vote online for their favourite gardens - the top three gardens in each category
will then be judged by the Kingston Blooms judges.
Online voting is between July 20th-31st.
Support Debbie's garden by voting at:
https://www.cityofkingston.ca/city-hall/get-involved/kingston-blooms

Debbie's garden is in the large garden category, nominee #6.
All the best to her in this year's competition!
---
BBQ Tonight
Come join us tonight for a BBQ and live music by "Wingin It,"
Chef has once again prepared a special treat with an Oyster Bar! For the full menu please click here. Don't miss out!
---
Partridge Bowl
This weekend is the Partridge Bowl, KYC's annual race to the club property, Jemmet's Landing. The winner gets to take the first sip from the Partidge Bowl. This year, Chef Neil will be making the trip and preparing a delicious feast on the grill featuring a choice of local rib steaks or grilled chicken and shrimp skewers. Dinner tickets will be $25 per person. For the kids there will be burgers and veggies for $15 per child.
Chef Neil will also be serving up fresh oysters on the half shell with Mignonette, lemon and fresh horseradish for $15 per half dozen. This year for the first time we will also be offering breakfast the day after the Partidge Bowl at Jemmets for $8 per person. Reserve your dinner or breakfast tickets and oysters now, to avoid disappointment, either with James at bar@kingstonyachtclub.ca or at the bar.
---
F&B Update
Our beer of the week is Muskoka Brewery's Summer Weiss. It is a refreshing take on a traditional bavarian style heffe-weiss, come in and try one today! Stay tuned for more exciting new feature beers arriving throughout the summer.
We also have a new rosé wine available this week from Les Jamelles in the Languedoc region of France. Based on the feedback we recieved at the Food & Beverage Fair in June, we have adopted it as KYC's new house rosé. It is made from 100% Cinsault grapes, has herbal and fruity notes and is refreshingly dry. Ask your server to try a glass today.
Upcoming Events:
Summer Food and Wine Pairing Dinner
August 29th at Jemmet's landing, KYC will be hosting our long-awaited summer wine-dinner. Chef Neil will be creating a delicious menu of local food to be paired with some of the best wines Ontario has to offer. Stay tuned for more details.
---
Yoga @ KYC!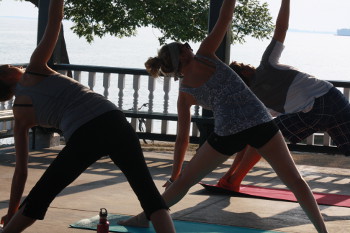 Yoga at KYC with Norah Greatrix!
We are proud to announce that during the month of August our very own member Norah Greatrix will be introducing Yoga for Club Members!
Where: Weather permitted we will practice outside in the Newlands Pavilion at MacDonald park. Alternatively class will be held at the club in The Partridge Room Located on the second level.
When:
Aug 9th,16th, 23rd, and 30th. We will be adding dates in September based on participation
Time: 1600hrs
Cost:
The cost is $10 per session (which we will be happy to apply to your account)
Sign Up:
Please contact Greg McNab manager@kingstonyachtclub.ca
What to Bring:
Mat, comfortable clothes & H2O.
(A mat can be arranged in advance if you need, please contact Norah for this and with any questions pertaining to what will be covered in class).
A bit about Norah! http://www.bodymindkingston.com/about
For additional information please contact Norah norahgreatrix@gmail.com, she will be happy to answer any additional questions
---
Member Statements
Starting next month, KYC will be sending all members an account statement email. This includes those who currently get paper statements through lettermail. The statement email will serve as a reminder to review your account activity and make a payment if necessary.
If you are happy with this statement delivery method and no longer wish to receive paper statements please contact the office.
Online account statements are up-to-date, interactive views of your financial activity at KYC. They provide detailed chit information as well as historical data.
You may review your statements at any time by going to:
www.kingstonyachtclub.com/memberdesktop and choosing "My Account" from the "Quick Links" bar on the left hand side of the page.

If you have never used this service before, your login information and password is your member number (i.e. M992). You may change your password once you have logged in by choosing "My Profile".
In addition to account statements you can also access the member roster and view detailed wind data from Sailflow (generally a paid service).

If you forget your password or are having trouble using this service please contact the office.
---
Picton Jazz Festival Cruise
This year's cruise to Picton features an exclusive KYC wine tour on Saturday, August 15th. Of course, we will participate in the usual Jazz Festival events that take place around town over the weekend. Our group theatre event is planned for Friday, August 14th with a dinner arrangement at 6:00 (usually a BYO event catered by Miss Lily's Café – still to be confirmed) followed by the 8:00 show. The performance features Guido Basso and vocalist Shakura S'Aida. You can find more information about the show at
www.pecjazz.org (under "Performers")
Theatre tickets are $38 each and the Friday dinner is expected to be about $30 (tax & gratuity included). A number of boats will be heading west on Thursday to either Stella Bay or Prinyers Cove and then continuing to Picton on Friday. If your schedule is better suited to a Saturday night show instead, we would still encourage you to join the cruising group on arrival, simply arrange your own tickets by contacting the Regent Theatre Box Office (877-411-4761 x 28)
This year we will be offering a "full day" Saturday wine tour through the County. We expect to visit at least five wineries: Norman Hardie, Karlo Estates, Sandbanks, Hinterland and Three Dog Winery. We will have private transportation and the expertise of sommelier, Ian Nichols. This will take place on Saturday, August 15th (with lunch included) for a total cost of $100 per person (tax and gratuity included).
Please contact James at bar@kingstonyachtclub.ca soon, to reserve your jazz and wine tickets. Space is limited!
---
Wine Tour Tickets Available
If you aren't planning on making the trip to Picton for the Jazz festival, you can still join in the fun of the Wine Tour on Saturday, August 15. Tickets are $100 per person (tax and gratuity included), and includes lunch at Norman Hardie Winery and sommelier-led tastings at 5 wineries. The bus will leave KYC at 9:30am and return in the late afternoon. Please contact James at bar@kingstonyachtclub.ca for more information or to book your tickets.
---
Boat Part Sail & Parts Swap - August 6th
Thursday August 6th after racing, in the Partridge Room.
Is your basement filling up with unused boat parts? Then bring them to sell.Do you want more boat parts? Then bring cash and buy someone else's unused parts.
Or, do you just love economic trade theory (maximizing utility and happiness)? Then bring unused boat parts to swap. E-mail James at bar@kingstonyachtclub.ca for more information
---
Sailing Adventures in Eastern Canada

Eric North, a crew member of Don Currie's Bagatelle since 2001, has written a book Knots Made Good describing their passages in the Maritimes, Quebec and Kingston to Manitoulin Island. Don has written the forward to the book. ISBN 978-0-9939747-0-0
---
Upcoming Events at KYC

July 25
Partridge Bowl
August 1-3
29er & 49er Canadians at KYC
August 8
Wolfe Island Race
August 14-15
Picton Jazz Cruise
August 15
KYC County Wine Tour
For a complete list of upcoming events please visit:
www.kingstonyachtclub.ca/calendar
---
KPSS Upcoming Courses
Please visit the KPSS website to register: kingstonboatingandsailing.ca
or contact May Corcoran at 613 536-5367