---
Knotmeter Photo Competition
Starting in October we are asking members to submit their best photos of the 2015 sailing season at KYC. The best photos we recieve will be featured in the knotmeter. There will be prizes to be won. Bonus points will be awarded for funny captions. Submit your photos to office@kingstonyachtclub.ca
---
F&B Update
September Hours:
| Hours | Monday | Tuesday - Friday | Weekends |
| --- | --- | --- | --- |
| Kitchen | 1130-2000 | 1130-2100 | 1000-2100(2000 Sun) |
| Bar | 1130-2100 | 1130-2200 | 1000-2200(2100 Sun) |
Winter Hours Effective October 4, the bar & restaurant will be closed on Mondays.
| Hours | Tues-Wed | Thurs-Fri | Weekends |
| --- | --- | --- | --- |
| Kitchen | 1200-2000 | 1200-2100 | 1000-2100(1800 Sun) |
| Bar | 1200-2100 | 1200-2200 | 1000-2200(1900 Sun) |
Weekend Features:
Appetizer Special – Coconut Curry Mussels
Dinner Entre – Bouillabaisse
French Seafood Soup seasoned with fennel and saffron. MahiMahi, Swordfish, Cod, Shrimp, Scallop and
Mussels. Garnished with crostini & rouille
Brunch Omelete Feature: Ham, Swiss & roasted mushrooms
Feature Pancake: Nutmeg & Cinnamon
New Drink Menu:
Although Gillian has left us for warmer climes this winter, she has left behind a great new cocktail list. Come in and try one of KYC's signature cocktails!
Beer of the Week:
This week's beer is MacKinnon Brothers' Red Fox Summer Ale, an easy drinking summer ale infused with beets with a crisp citra hop finish.
Upcoming Events:
Thanksgiving Weekend:
We will not be hosting a formal Thanksgiving Brunch or Dinner this year, Chef Neil is however preparing a Traditional Turkey Dinner (with all the trimmings) for a Dinner feature next Friday and Saturday evening. I hear he may even have open faced turkey sandwich for Sunday's lunch special
Kids Halloween Party – Friday, October 30. From 5:00pm-8:00pm
Join us for a frightfully fun Family Night! Halloween Party! The fun begins at 5:00pm with pumpkin carving, followed by games, haunted house (maybe even a boat) and costume parade! Come and even get your family costume photo taken! Buffet Dinner available. Email manager@kingstonyachtclub.ca to register!
Next week we are planning to announce several things! Firstly, our new fall/winter menu! Secondly we will introduce all of our fall and winter dining events and special days planned for the membership. Included in this will be our "GO JAYS GO" themed nights and Specials!
---
Fall Clubhouse update:
As we move into the cooler days, we just wanted to inform the membership that we ask you not to use the doors to enter or exit in the dining room, but instead please use the front doors. We are simply trying to ensure the members who are dining are not having their dining experience interrupted by a not so nice "cool breeze." We appreciate your cooperation with this.
Starting November 1st, we will be remodeling the ladies washroom. The facilities will be "out of order" for about 10 days – two weeks. We are in the process of cleaning up the Able Sail office/Washroom for member usage during this time. We appreciate your patience during this long overdue project.
---
Fall & Winter Events @ KYC
James, Neil & Greg are working on plans for some exciting events at KYC this winter. First up will be TGIF's featuring tasty and delicious dinner specials with wine pairings. Watch out for our Oktober Fest themed TGIF later in October. Chef Neil will be pulling out all the stops for KYC's annual award night on November 7. We will also be hosting a wine pairing dinner on November 21.
There will be an exciting slate of holiday parties at KYC with old favorites and new events planned. The Roast Beast Feast & Carol Sing will be on December 5, the Kid's Christmas Party will be on December 13 and an exciting new event The Holiday Cocktail Party will be on December 19. Keep an eye on the Knotmeter for more details.
---
October Gas Dock Hours
Just a reminder that the Gas Dock will now be closed on Saturdays.
---
A reminder to check your boat
As we are getting into the cooler weather, and potentially windier days, we just want to remindmembers to ensure your boat (and neighbours boat) are secure. We generally take a daily trip around the harbour, however it would be fantastic to ask for your assistance.
---
Yoga @ KYC!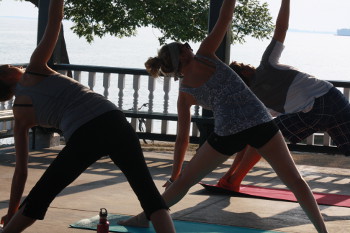 Yoga at KYC with Norah Greatrix!
Come down to KYC for yoga, every Wednesday!
Where:Partridge Room, Upstairs KYC.
When:
1545h, every Wednesday, classes formally start at 1600h.
Cost:
The cost is $10 per session (which we will be happy to apply to your account)
Sign Up:
Please contact Greg McNab manager@kingstonyachtclub.ca
What to Bring:
Mat, comfortable clothes & H2O.
(A mat can be arranged in advance if you need, please contact Norah for this and with any questions pertaining to what will be covered in class).
A bit about Norah! http://www.bodymindkingston.com/about
For additional information please contact Norah norahgreatrix@gmail.com, she will be happy to answer any additional questions
---
Cruiser's AGM
Hello Fellow Cruisers:

The Cruising Fleet Annual General Meeting is scheduled for November 12, 2015 upstairs at the KYC at 7:00 p.m.

Munchies in the form of appetizers and finger foods will be available and the upstairs bar will be open.

I'll distribute the agenda closer to the meeting date. If you have anything that you would like to include in the agenda, please let me know by the end of October.

I hope that everyone had a wonderful sailing season and comes to the AGM with ideas for next year.

- June Blackburn
---
Racing Update

Racing Update
Results

Chase Race
1st Breakaway J, 2nd Happy Puppy, 3rd Cariad
There were 10 boats out on a beautiful sunny day in a 15 kt breeze. The race was very close with the difference between 2nd and 3rd place a matter of inches!
September Series
Sharks: 1st JLS, 2nd Shadfly, 3rd Cariad
PHRF I: 1st Fireside, 2nd Chiriya III, 3rd Touch of Class
PHRF II: 1st Selene, 2nd Scotia Maid, 3rd Scotia Maid
Race Management

Protests info is now being posted (and updated) on the bulletin board.
Thanks again to Don, Robert & Christina and Ross for their help during the last month. Thanks to the racers for their patience & understanding. The hunt for next year's Race Management Coordinator is underway...
Marks Haulout

Our temporary marks are being hauled out early next week. We could use some volunteers to help on the water and shore with this job. A whaler has been outfitted by Brad with a powered winch to make this job easier. Email John Vines at jvines@bell.net if you would like to help.
Awards Night
Mark your calendar with our Awards Night dinner on Saturday November 7. In addition to the racing awards, there are additional special awards available for:
Best Crew
Best Team
Best Race Committee
Most Improved Skipper
Best Shoal Performance
Obscure Use of Sailing Skills
Special Spinnaker Skills
Fleet Contribution
KYC Achievement and Leadership Award
Canada 1 Award

Nomination forms (including criteria) are available online on the "Sailing / Racing / Keelboat Racing" KYC web site page and at the bar. Please complete and return forms to the Race Office or email to race@kingstonyachtclub.ca by Wednesday October 14. If you have photos you'd like to share with others in the slide show, please send them to ken.martin@kingstonyachtclub.ca.
Sailing Committee

The committee is getting back work (on improvements for next year's racing and planning some events during the winter) with a meeting on Thursday October 8. If you are interested in helping on this committee, please email ken.martin@kingstonyachtclub.ca.
---
KYC's Debbie Loder Wins Kingston Blooms
As many of you will have noticed, KYC is lucky to have a beautiful garden between Saint's Rest and the Parking lot and it is all the work of Debbie Loder. This month all her hard work was recognized by the Kingston Blooms competition, where her garden won first place in the Large Garden category.
Debbie wants to extend a warm thank you to all of the people who voted for her garden. These votes placed her in the top three gardens of her category, which were then judged by the Kingston Blooms judges. Debbie was given a beautiful maple leaf plaque to be placed in her garden. Congratulations Debbie!
---
KPSS Upcoming Courses
Kingston Power & Sail Squadron will be offering a large number of boating courses through the fall and winter and all the courses will be hosted at KYC.
Restricted Maritime Radio - Saturdays, Oct. 3, Nov. 21, Feb. 13, April 9 from 10:00 am to 4:00 p.m.

Boat Projects - (NEW) Tuesday, Nov. 17 from 7:00 to 9:00 p.m.

Sailing - Wednesdays March 2 to May 4 from 7:00 to 9:00 p.m.

Marine Systems Related Maintenance- Wednesdays Jan 6 to Jan 27 from 7:00 to 9:00 p.m.

Marine Diesel Engine Maintenance - Saturday, Jan 9 from 9:00 a.m. to 3:00 p.m.

Boat Electrical Systems - Wednesdays, Feb. 10 to March 2 from 7:00 to 9:00 p.m.

Working with Fiberglass - Thursday, March 10 from 7:00 to 9:00 p.m
Please visit the KPSS website to register: kingstonboatingandsailing.ca
or contact May Corcoran at 613 536-5367
---
Upcoming Events at KYC

October 18
Shark Team Racing
October 31-November 1
Mast De-Stepping & Haulout
For a complete list of upcoming events please visit:
www.kingstonyachtclub.ca/calendar